05 Jul 2021
Start Up Donut have partnered with The International Franchise Show for the upcoming event on 24th and 25th November 2021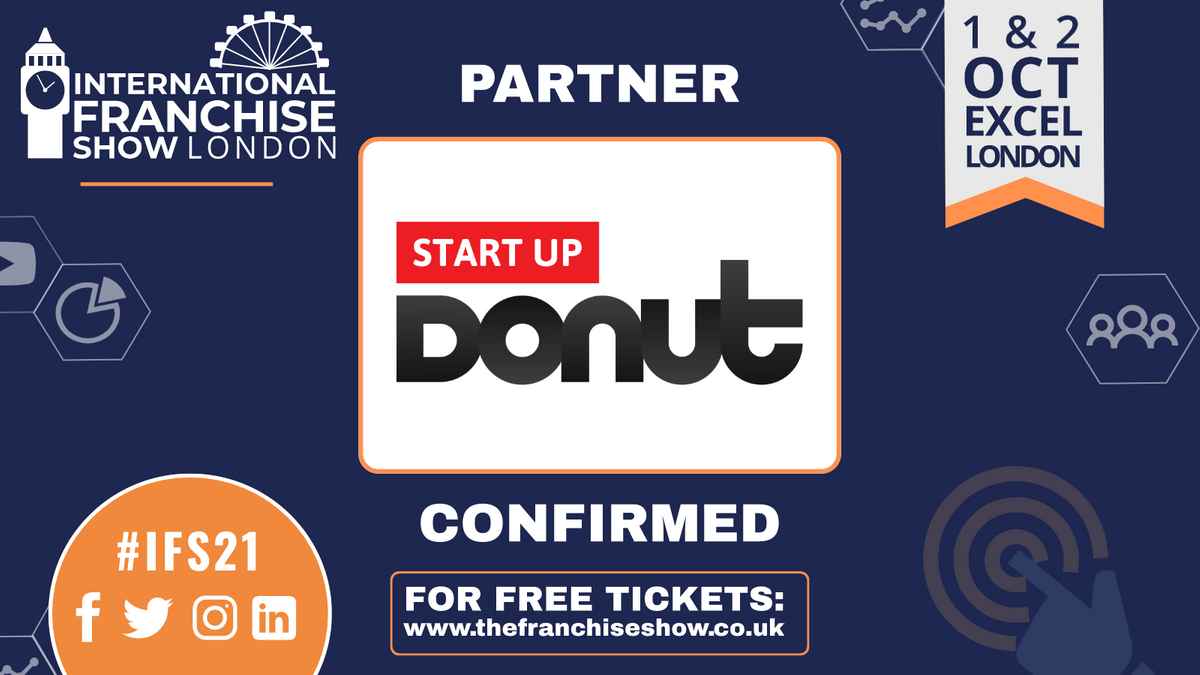 Friday 2 July 2021
PRESS RELEASE
Bristol, UK: Christian Yandell, Managing Director of The International Franchise Show is delighted to announce the partnership with Start-up Donut (Atom Content Marketing), commenting:
"We look to create long-lasting relationships with great companies like Atom Content Marketing. The partnership was sought out as we both target similar markets and look to aid those who are interested in starting their own business or developing their existing business, with the tools to do so."
Atom Content Marketing incorporates Start-up Donut, which is one of six Donut websites offering practical help and advice to help businesses succeed (Marketing, Law, Tech, Money and Sectors are the others).
Start-up Donut provides a large range of business advice services including how-to guides, Q&As, case studies, checklists, videos, blogs, frequently asked questions, small business news, tools and special offers.
Lisa Williams, Managing Director of Atom Content Marketing comments...
"We are delighted to partner with the International Franchise Show on their upcoming event on 1 and 2 October. We have seen an upsurge in traffic to our Start Up Donut website since the start of the pandemic with many more people looking to start their own business. The Start Up Donut, along with our five other Donut websites, provides practical help and information to help small businesses succeed. With 250 franchise brands across 25 sectors, the International Franchise Show provides inspiration and opportunity for those wanting to start out on their own but with the backing of a proven brand and business model."
The International Franchise Show will be back for 1st and 2nd October 2021 at ExCel London. The show is approaching its 43rd edition, attracting 25,000 visitors each year who are looking to start or grow their own business.
The exhibition, which is the largest of its kind in Europe, attracts thousands of ambitious entrepreneurs with over 250 exhibitors from around the globe including McDonalds, Platinum Property Partners, Action Coach, and F45 training.
For free tickets to the International Franchise Show go to /bit.ly/IFS20Ticket.
ENDS
---
Key Information:
The International Franchise Show will take place on 1st and 2nd October at ExCel London. It will host over 250 Exhibitors and 60 free seminars. Please visit www.thefranchiseshow.co.uk for further information.

The International Franchise Show is operated by Comexposium.

The International Franchise Show is the UK's leading exhibition for franchise opportunities from around the world and has been running for over 11 years.

The show's comprehensive exhibitor line-up and conference schedule is a great opportunity for you to discover franchise brands from around the globe.
For all Franchise Show exhibition enquiries please contact Event Director, Simon Chicken on +44 (0) 1179 902 091
For all Franchise Show Marketing enquiries please contact Marketing Director, Angie Wyatt, on 0117 990 2094 or email marketing@thebusinessshow.co.uk