Business Adaptation: How a number of franchises are evolving during lockdown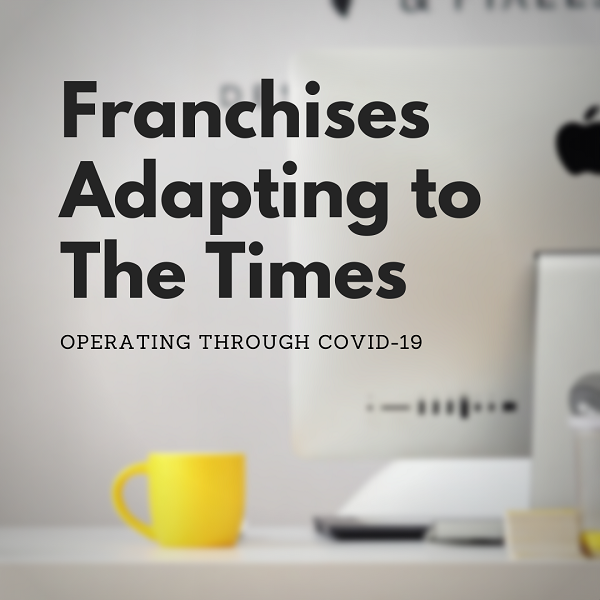 COVID-19 has caused real disruption to the working lives of millions of people across the world. Here in the UK the lockdown has meant that a lot of businesses have had to adapt their services to meet the consumers home isolating.
This has caused a surge in the amount of online and home delivery offerings, as well as the use of technology to assist in access to services at home.
Below is a selection of franchise brands that have adapted their business models to provide services to consumers in the comfort of their homes:
Mama Codes
MAMA.codes online allows you to enjoy the award-winning MAMA.codes experience from home. Keep children busy, learning, and socialising! Coding classes for beginners or experienced digital whizzkids, ages 4–11.
You can even invite a group of friends to code together.
How to book?
You can join an existing session or invite a group of friends to code together at a time that suits you! We teach 1:1 or groups of up to 4 children aged 4–7 and up to 6 children aged 7–11. Book a FREE trial with a friend or sibling or a regular class for up to 6 students from £12.
Find out more and book your free trial here: https://www.mama.codes/online
Kids Lingo
Live video French & Spanish classes for kids age 0 -11 yrs from Kidslingo.
• Interested in your little one learning a new skill?
• Looking for something entertaining & educational?
• Friends can join the same class to keep connected.
See here for a video - https://youtu.be/F_fbvQq9T2k
Kidslingo LIVE French & Spanish video classes, delivered via Zoom, allow little ones to see themselves & interact with friends live on screen:
• They can join in with activities together such as virtual treasure hunts, story-time and singalongs.
• They can ask and answer questions with the teacher and friends.
• Classes are divided by age group, but siblings can join in the same class at no extra charge.
• Weekly emailed learning packs included with activities, crafts and an mp3 music track (12 to collect).
• The younger learners will enjoy meeting the Kidslingo bear and can introduce their own cuddly toy too!
Please fill in your details here - https://www.kidslingo.co.uk/live-video/ & we'll be in contact.
If you would like to be in the same class as a friend – please state that on the contact form.
Christies Care
Christies Care is a family owned and run live-in home care agency, established in 1987. We specialise in providing live-in home care to dependent adults, carefully matching personalities so that our clients have a team of carers whom they know and like.
Christies Care has been inspected and rated as Outstanding by the Care Quality Commission – a rating awarded to less than 3% of all care agencies or care homes. We work closely with Social Services Departments and health professionals.
Our Suffolk based support staff of around 75 people are there to make sure that we have all the procedures working well to act quickly and efficiently on each client's behalf, including our ability to start work for a client often within 24 or 48 hours of being asked.
Christies Care provides hourly home care and respite care in Northwest London, Suffolk and Oxfordshire.
Contact:
Hourly care: Suite 4, 105 Sumatra Road, West Hampstead, London NW6 1PL T:0203 963 9306 E:carla@christies-care.com
Live in care: Rose House, Farm Road, Saxmundham, Suffolk IP17 1AL
T: 01728 605 107
Kiddy Cook
We might not be able to come into schools to deliver our cooking activity workshops currently, but that's not stopping us putting together activities and resources to help parents (and teachers) with homeschool learning, and Kiddy Cook is fully committed to helping parents help their children using our main principles of keeping healthy - Eat Well! Be Active! Feel Happy!
That means that we will be uploading new content to our YouTube (https://www.youtube.com/channel/UC8f7-dQhFwAfRHqLmcgB4EQ?view_as=subscriber) channel each week to keep children active and healthy during the school closures.
• Cook-at-home Videos & Recipes
• Fitness Challenges with Full of Beans
• Mindfulness and Wellbeing
We've also developed some fun, educational packs based around our curriculum-based Food Foundation Programme - which we currently deliver in hundreds of schools to thousands of children across the UK - and will support parents to work through the activities with their children at home; find out more here: https://www.kiddycook.co.uk
If you'd like more information regarding any of the above, please email Nikki hale@kiddycook.co.uk.
Extra Help
Extra help is currently servicing 3.2 million homes across the UK and can offer services to anyone who is vulnerable and needs help, with their garden, shopping services, and or essential domestic cleaning (for those who are unable to do their own).
They can also offer online or telephone companionship to help people through these tough times in 30 areas across the UK visit www.extra-help.co.uk for more details.
Bilingual Sing
Our new online classes are jam-packed full of daily activities to keep children (and their grown-ups!) entertained - with the added benefit of learning another language.
And the beauty is that if there isn't a BilinguaSing near you, it doesn't matter – you can join us online WHEREVER you are!
We've a combination of live classes, fun games, daily bedtime stories and other bonus activities – there's something for everyone!
And if you can't join us live, don't worry - you'll be able to access the content at a time that's convenient for you.
Visit https://www.bilinguasing.com/find-a-class/online-learning-community or email us at hello@bilinguasing.com.
We can't wait to see you!
Alchemy
Alchemy VA what we do:
Support small businesses with award winning virtual admin, PA and marketing support and call handling UK wide
Free/no obligation 30 minute call – making remote working for you - for anyone needing support with the transition.
VA support can (usually) be set up within 24 hours, starts from £175 per month on a flexible basis – we've dropped our minimum contract terms in the light of the current situation
Find out more:hello@alchemyva.co.uk
01604 312195
diddi dance
We are super excited to announce that we are continuing to provide diddi dance online so you can join in at home directly from your living room.
All our online sessions will be run by our regular teachers to keep your little ones active:
exercise for your diddi dancer
entertainment
continue to help your child's development whilst at home
help to keep a fun routine
We have had awesome feedback from the families who are already joining our online sessions and you can join us too! Contact your local diddi dance here, for all the information and book your place.
We hope you'll be joining us very soon!
Full of Beans
Full of Beans Fitness & Sports Coaching support the physical and mental health of children aged 2 – 11.
While most schools and nurseries are closed, we want to ensure that children of this age can have fun while being active with their friends.
What have we done:
Free 10 min exercise videos offering a variety of sessions from yoga, gymnastics, football, dance and cheer etc via our Facebook page @FOBWirral
We are continuing our pre-school classes via zoom. Children at home are joining in with their friends who are still in pre-school with their Full of Beans teacher hosting the class
Within the next few days we will be launching our "subscription members group". For just £10 per month we will be offering access to all of our full classes, plenty of lives and a variety of sessions to suit the whole family. We have lots of bonus extras including recipes and videos from our partnership with Kiddy Cook.
Our "Mini Mermaid" and "Young Tritons" self development programmes will also be available for small groups of children online soon. We work on mindfulness, self-esteem, self-confidence, self-compassion, goal setting and the value of exercise. Keep an eye on our facebook page for more info.
Find out more and get in touch here: http://www.fullofbeansfitness.co.uk/contact-us