Educational Sector Taking #IFS By a Storm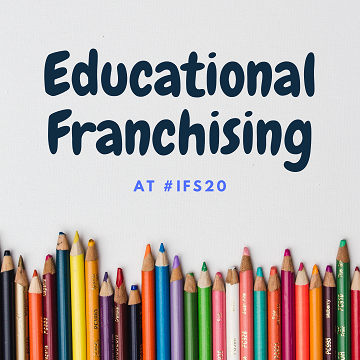 Educational franchising is a hot topic at this year's International Franchise Show. Many former teachers leave the industry to venture into becoming their own boss. We have a number of unique educational franchise models for you to explore. Many of our educational franchises exhibiting at this year's event are former teachers.
In April 2019 investigation by the National Education Union highlighted the jump in teachers leaving the industry. In the last 5 years alone 32,375 new teachers have left the state school system. Budget cuts, increased workloads and mounting pressures from OFSTED inspectors and parents alike comes as no surprise to why former teachers are turning their backs on education and looking to venture into a journey of becoming their own boss through franchising.
Former education professionals hold a range of attributes and skills that can be seamlessly transferred and applied to franchising, the operations, work loads, organisation and structure are similar. Many of our educational franchisees come from teaching backgrounds:
Edouard Wood's experience in teaching has benefited his future entrepreneurial endeavours in more ways than one. Having now launched a franchise with children's multi award-winning music education company, The Strings Club, he is able to draw from his 20 years' experience as a violin teacher.
"I'd worked in a freelance capacity for a number of years before starting my own franchise last summer, so although I had a good idea of what it takes to work for yourself, the franchise model really suits my lifestyle. The level of support I get from my franchisor is invaluable," said Edouard. "There's less of this 'us and them' mentality that you come across so often in teaching. My business is growing steadily and I'm confident that the earning potential will far outweigh what I'd earned when I was teaching on my own."
Tutor Doctor franchisee, Roger Kennedy, worked as an English teacher for eight years at schools across London before starting his own business in 2017.
"I became disillusioned with certain elements of the role and the constantly changing policies," said Roger. "It almost became that the evidence of achievements were favoured in place of genuine knowledge and interaction of your students. Teachers want to make a difference and see students' progress but it's being taken away from them."
Aniruddh Gupta, CEO of UK-based nursery franchise, Kido School, has sourced a whole host of talent from the former teachers who have approached him regarding their franchise opportunity.
"Running a nursery can be incredibly complex. Having knowledge of those complexities and challenges as a former teacher means you can navigate them much more easily. The former public sector teachers at Kido also appreciate the vastly different working environment and culture where they can still pursue their passion for early years education."
However, not all former teaching professionals are opting to continue in the education field when investing in their own business. Nicola Whybrow, former school teacher from Oxfordshire, now operates a House of Colour franchise. She puts much of her success down to the skills picked up during her 12 years as a teacher and the lack of restrictions in her new career.