23 Apr 2021
Electroclean: keeping you safe at the International Franchise Show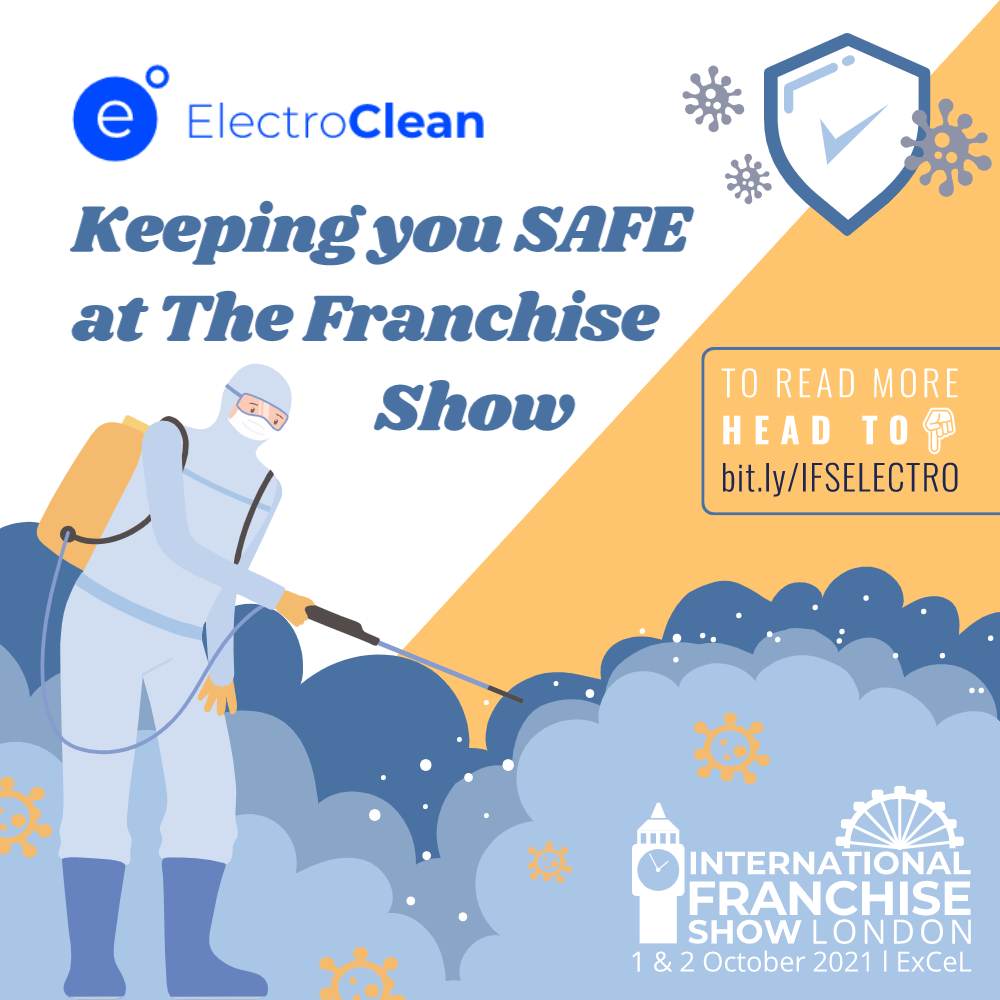 The roadmap out of lockdown is finally underway. The UK economy is beginning to open up, friends and family are able to meet again, and indoor hospitality is just a stone's throw away.
As we begin to reconnect with others, socialise in beer gardens and make the daily commute into workplaces, the feeling of anxiety lingers for many. Words of 'caution' during these next few months echo in our minds as the Prime Minister insists on sticking to key dates for lifting restrictions, though, emphasising the need to do so with caution.
For the events industry the past year has been a trying one. Lockdowns brought event organisers' businesses to a halt, forcing them to adapt in order to stay afloat. News of restrictions ending, and assurance of dates remaining as they are, has brought music to the ears of many event organisers who've battled through so much uncertainty around the holding of dates for respective events.
Forbes, 2021 reports that LiveNation, parent company of Ticketmaster, has seen its 2020 revenue collapse by 84 percent compared with that of 2019, largely due to the pandemic and forced cancellations.
One event looking to give peace of mind to visitors attending their exhibition is Britain's biggest International Franchise Show. Returning on 1st and 2nd October, 2021 at ExCeL London, the Franchise Show has teamed up with Electroclean to provide a deep electrostatic clean of the hall prior to the live event. Whilst COVID restrictions are likely to have been removed post June 21st, the Franchise Show organisers want to make visitors feel as comfortable as possible when attending the event.
ElectroClean's deep cleaning services kill and protect surfaces from 99.9% of all known viruses and bacteria including Coronavirus for up to 28 days creating a virus free environment.
What is Electrostatic cleaning?
Electrostatic cleaning technology delivers 360° wrapping of objects meaning every nook and cranny of the sprayed environment is being sanitised. The static charge in the mist particles sprayed allows the antimicrobial droplets to stick to and dry on almost any surface, leaving a layer of antibacterial and virus protection. This protective film can last and actively protect a surface for up to 28 days.
As entrepreneurs return to the UK's biggest International Franchise Show, in hopes of finding their perfect franchise, guests can rest assured that everything has been done to protect all who attend. Some of the measures you can expect, can be found on the Franchise Shows' website here.
To find out more about owning your own Electroclean franchise, visit them on stand #808 at the International Franchise Show 1st and 2nd October at ExCeL London. To explore the full range of franchise brands head to www.thefranchiseshow.co.uk.