21 Feb 2022
Go East – Southeast Asia to be Exact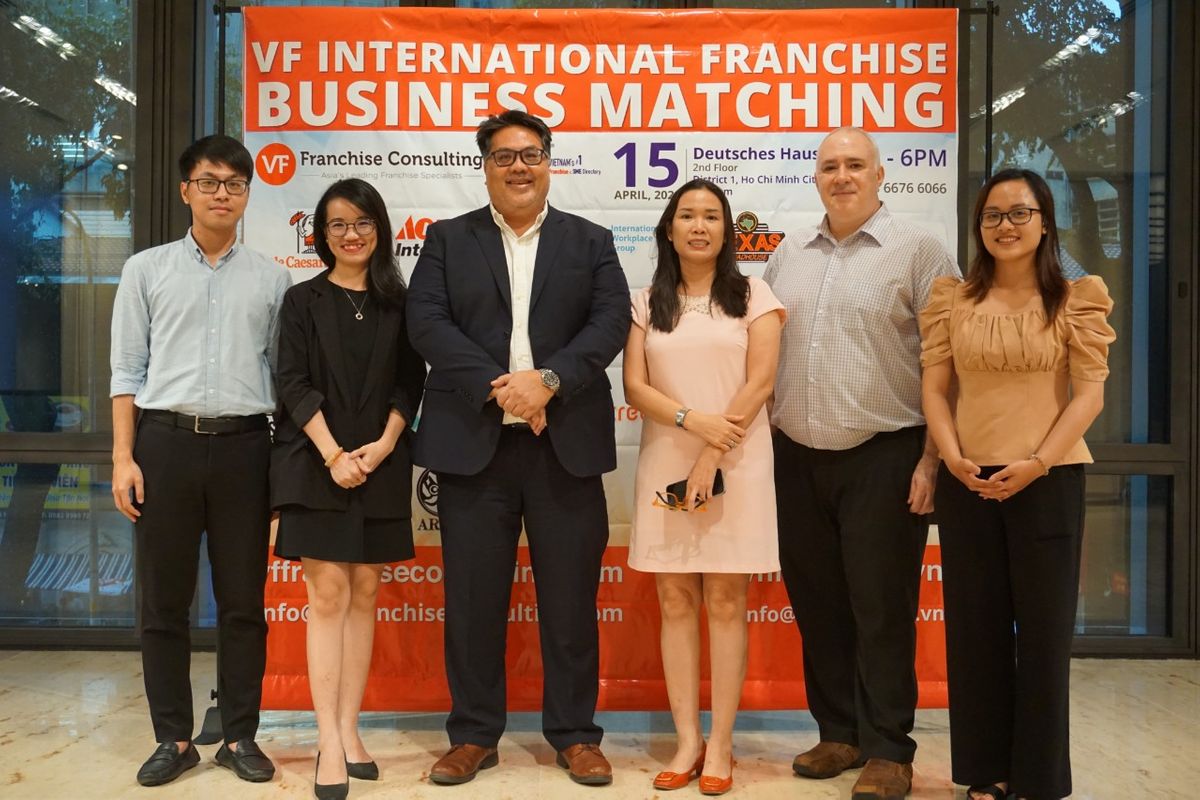 Southeast Asia (SEA), or better known as the Association of Southeast Asian Nations (ASEAN), is a region the includes ten unique countries that makes up over 655 million people (8.5% of the world's population) and encompasses some of the most developed to high-growth emerging economies. While each country has its own official language, English is the most common second language and spoken to some degree by many business owners, executives, entrepreneurs, and teenagers and adults.
ASEAN has 31 urban areas with populations of over one million. The largest urban metropolitan areas in ASEAN include Jakarta (Indonesia), Manila (Philippines), Bangkok (Thailand), Ho Chi Minh City (Vietnam), Hanoi (Vietnam), Kuala Lumpur (Malaysia), Bandung (Indonesia), Surabaya (Indonesia), Yangon (Myanmar), and Singapore - all with an urban population of over 5 million. Nearly 50% or 324 million people live in urban areas.
ASEAN HIGHLIGHTS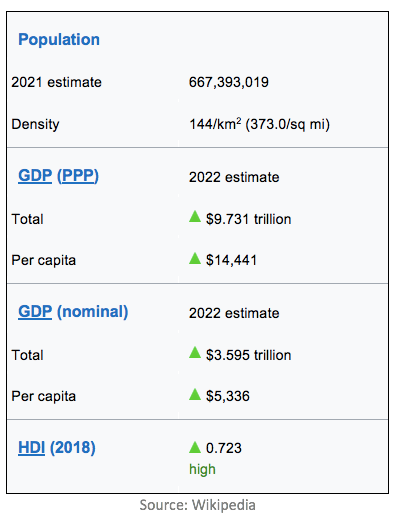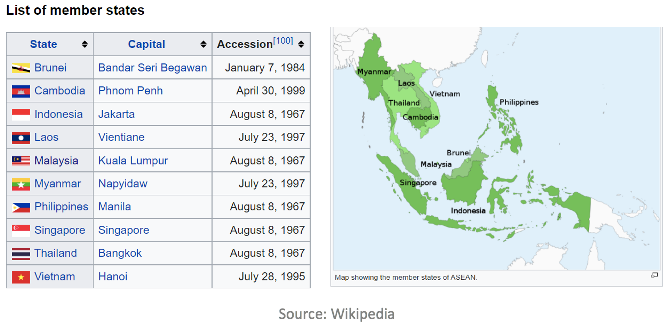 The region is also an economic powerhouse. In 2020, the estimated total GDP of all ASEAN countries amounted to approximately 3.08 trillion U.S. dollars. In fact, the GDP of the ASEAN region has been skyrocketing in recent years, reflecting the region's thriving economy and is often seen as a more business friendly region to enter than the more mature markets such as China, Korea, and Japan. As a region, ASEAN is the 5th largest economic zone in the world with a GDP that is higher than India, the UK, and France. The three largest economies in ASEAN are Indonesia, Thailand, and the Philippines. According to a recent Goldman Sachs report, Indonesia, the Philippines, and Vietnam will all be in the top 20 largest economies by the year 2050 with Indonesia alone ranking 4th globally.
Top ten largest economies in the world (US$ trillion), 2019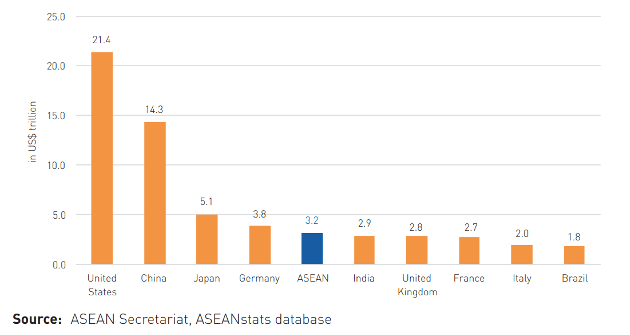 The franchising industry is also growing fast in virtually all of the countries within ASEAN, and many have developed franchise industries that include internationally recognized franchise brands in food and beverage, retail, education and training, hospitality, services, lifestyle and fitness, and many more. The most developed franchise industries can be found in Singapore, Malaysia, Thailand, and the Philippines. The remaining markets present even more significant growth opportunities for franchises from the UK, Europe, North America, and within the Asia Pacific region.
Hot quick service restaurant (QSR) segments include fried chicken, pizzas, burgers, and sandwiches are popular. Fast-casual and casual dining concepts are also very popular, especially as incomes have been rising for the past three decades. Healthier F&B options are becoming more in demand as incomes rise and the shift towards a healthier lifestyle begin to take hold. Branded retail and fashion brands can be found in Bangkok to Jakarta to Ho Chi Minh City, to Phnom Penh. Lifestyle and fitness brands are underserved in this region, whether it is a fitness concept or vitamin, health and beauty stores, and similar concepts. We would be remiss if we did not mention the education and training sector, whether for younger children, teenagers, or adults. Private education is growing globally and growing at the fastest rate in Asia.
If you have any questions about ASEAN or Asia, contact us for a free and confidential meeting to discuss taking your franchise to this region successfully!
---
Author: Sean T. Ngo is the CEO and Co-Founder of one of Asia's leading franchise consultancy, VF Franchise Consulting (www.vffranchiseconsulting.com). He is Asian American and has been based in Ho Chi Minh City, Vietnam, for over 17 years. You can reach him at sean@vffranchiseconsulting.com or info@vffranchiseconsulting.com