The Rise of Health Food Franchises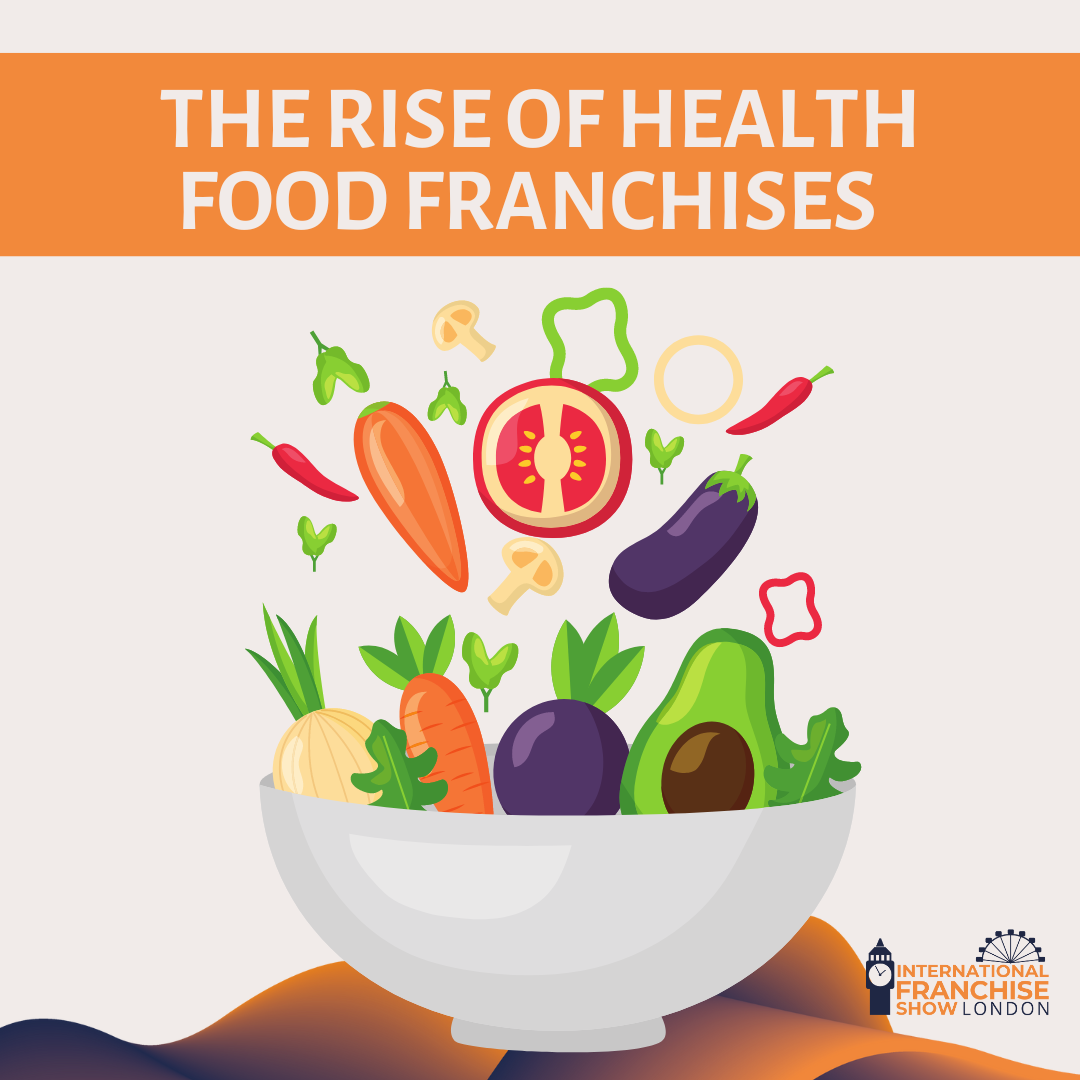 Throughout the pandemic we saw people adapt new lifestyles, start new hobbies, and adapt healthier eating styles as well as becoming more eco conscious. This has had a direct impact on the food and drink industry as consumers are seeking more environmentally friendly options when going out for food.
More consumers now want to know where their food comes from, if their food is organic, and the environmental impacts of their diets. Consumers are now choosing to go meat free or implement a vegetarian or vegan diet, hence the rise of meat-free options at your favourite restaurants. According to Forbes, In the UK we collectively spend almost £45 million per week on organic produce. So, there's no wonder that the UK has seen such a vast incline in demand for healthy food franchises.
Reasons why a healthy food franchise is becoming increasingly popular:
People are increasingly becoming health conscious: There are many reasons why consumers are becoming more health conscious; from social media to government campaigns to name a few. As a result, healthy food franchises continue to be on the rise in the UK.
Consumers are adapting to vegetarian and vegan diets: Experts believe that a quarter of consumers will uphold vegetarian or vegan diets by 2025. 1 in 3 of Brits have already adapted to a meat free diet or considerably reduced their meat intake.
Customers are looking for aesthetically pleasing foods: The rise of 'Instagramming' aesthetically pleasing food has been apparent for some time now. This also means that professionals, health experts, nutritionists, and fitness professionals as well as influencers now have a platform to promote cleaner eating.
There's a big market for healthy food franchises: According to research, over 70% of consumers think healthy food options should not be overlooked when creating a menu. But, only 48% of restaurant owners consider healthy and affordable dishes. The dempand for healthier and meat free options remains at a steady incline.
So what are some of the most popular health food franchises in the UK at the moment? Here's a list of a few:
Beleaf Juice Bar: Beleaf became Europe's first juice bar to use completely fresh and natural ingredients sourced from locations around the world. Beleaf stands out from its competitors because of the exceptionally high quality of products and commitments to continue innovating new juices and smoothies. Additionally, Beleaf Juice Bar offers complete customisation of juices and smoothies for its customers.

CUPP: CUPP is an award winning premium bubble tea brand based in the UK. CUPP set itself apart from all of its competitors by focusing on using the best, and premium ingredients in their bubble teas. CUPP wants to begin a change in the industry by setting the tone for other companies, while striving to use the best ingredients and implementing sustainability strategies like using biodegradable bamboo fibre straws instead of plastic.

Dr Noodles: Dr Noodles is a healthy alternative to traditional fast food. All of its dishes are full of nutritional goodness without compromising on flavour. The food on offer at Dr Noodles is dairy-free and egg-free with no added MSG, perfect for those with dietary restrictions. Dr Noodles also caters to vegetarian, vegan and gluten-free diets.

Scooperb: Scoopber is a family operated ice cream and desserts lounge based in London. Scooperb stands out from it's competitors as it offers unique flavours coming all the way from India such as Roasted Almond & Saffron and Pista. Scooperb ice cream is eggless, vegetarian, and hand crafted with additional vegan options.

Salad Box: Provides healthy food choices like salads, vegetable soups, natural juices, and smoothies. Customers can choose from a range of salads prepared in front of them. The concept of Salad Box is associated with freshness and healthy meal customisation. The business has thrived due to the diverse audience appeal - from families to students, office workers and tourists.
Triple Two Coffee: A nationwide coffee shop brand passionate about serving high quality specialty coffee. The franchise offers the highest quality coffee, and delicious dishes prepared fresh every day made from quality ingredients sourced from highly regarded suppliers and where possible shop local.

WOLF: WOLF is designed to bring true Italian street food to the 'fast casual' food market. Their focus is on great ingredients, healthy Italian food and speed of service. Food is free from any perceived negatives of the traditional Italian food and suited to whoever wants to eat healthy food without compromising on the taste.

The Avocado Show: The Avocado Show takes this superfood and transforms it into beautiful dishes. The avocados are obtained from sustainable sources and the company holds a strong social responsibility focus.

Bagel Corner: At the Bagel Corner, bagels are made fresh and in front of the customer. Each outlet offers a range of food options including bagels, salads, and soups all prepared with fresh produce. What sets Bagel Corner apart from the rest is the commitment to serving with the freshest food quickly. Additionally, you can order lunch directly from the Bagel Corner website and then pick it up from the restaurant to avoid lengthy queues.
These are only a few of the most popular health food chains in the UK at the moment. The market is set to only incline so if you're looking to set your foot into the franchising door, a health food chain might be the right choice for you.