The Rise of Green Franchises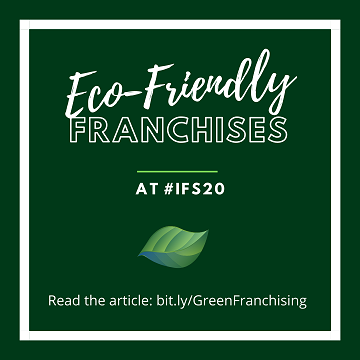 Sustainability and climate change is a hot topic around our this year's International Franchise Show. We've seen a surge in demand for green products and more sustainable ways of transport. As we encounter more frequent natural disasters (bushfires in Australia, flooding in the UK) and increasing temperatures across the globe, the focus on reducing damaging effects has never been so prevalent.
More people than ever are conscious about doing all they can to reduce their footprint, whilst savvy entrepreneurs are coming up with new ideas to meet demand.
At this year's Franchise Show we'll be hosting a selection of sustainable businesses offering transport means to meet the demand in green products. Our media partners Rev PR have spoken to a few of brands you'll get to meet on their views around sustainability and how their franchises make a positive impact.
Garry Hunt, Director of Right Bike, a bike retailer specialising in the sale of e-bikes, expects the British public's environmental conscience will only increase.
"Consumers are savvy, but their buying decisions aren't purely governed by costing and convenience. Right Bike has been trading for 15 years but I've noticed a considerable increase in customer footfall over the last two-three years. This falls in line with the increased media interest in sustainability as people are looking for more eco-friendly ways to travel. This year, we launch our franchise opportunity to prospective business owners as the demand from our customers continues to grow. Prospective entrepreneurs will instantly gain from investing in a business that fulfils this demand and, unlike other B2C enterprises, won't have to concern themselves with the costly implications of 'going green' later down the line," said Garry.
Like Garry, Maxim Ben Chaouch, co-owner of e-travel specialist, UrbanApe, has capitalised on the increasing need for environmentally-conscious travel providers across Europe.
"We first launched our e-vehicle rental company in Majorca in 2018 to fulfil the demand for e-bike and e-scooter rental. Many of our British customers explained the need for our services in cities around the UK so we're expanding to fulfil this requirement. All of our existing franchises are based in busy, cosmopolitan cities around Europe and these cities have one thing in common – a real problem with air pollution due to traffic density. UrbanApe wants to change these toxic pollution levels by getting people out of their cars and into the open air. Plus, we like to think that there's a kid in every one of us – what better way to see a city than on an electric scooter or bike! Our commitment to maintaining our environment has been on our agenda since day one, so we're looking for prospective entrepreneurs who share our belief in the importance of sustainability," explained Maxim.
Zero emission, all electric Taxi service, Go Zero, which launched in the UK in March 2017, prides itself on offering a safe reliable and affordable service for all. Paul Buckingham joined the growing network by launching his franchise in September 2019. He can vouch for the popularity of eco-friendly investment opportunities in the franchising sector.
"I've spent my entire career behind the wheel of a car so have always been aware of my environmental footprint," said Paul. "I previously spent 35 years with the police force, first working in the road policing unit before moving into diplomatic and royal protection. I felt so passionately about the ethical culture of Go Zero that I even came out of retirement to start my franchise! Go Zero is one of the first fully electric taxi services in the UK and I'm very proud to say that I was one of the first franchisees".
"For me, it really appealed that the sustainability aspect is consistent. Franchisees exclusively drive fully-electric, low emission vehicles, but all vehicles are also charged using only 100% renewable energy sources. This commitment is what makes Go Zero stand out from the crowd. It's unrealistic to assume that car travel is a thing of the past but making the right decisions now can make all the difference for the next generation. I take a lot of satisfaction from knowing that I am part of a change that's needed, and my business is prepared for the day those changes will become compulsory."
The demand for sustainable services isn't a fad or a craze – it's a fundamental need for the survival of our planet. Get ahead of the curve by exploring these sustainable brands at The International Franchise Show.