26 Aug 2021
Why a food franchise might be your perfect choice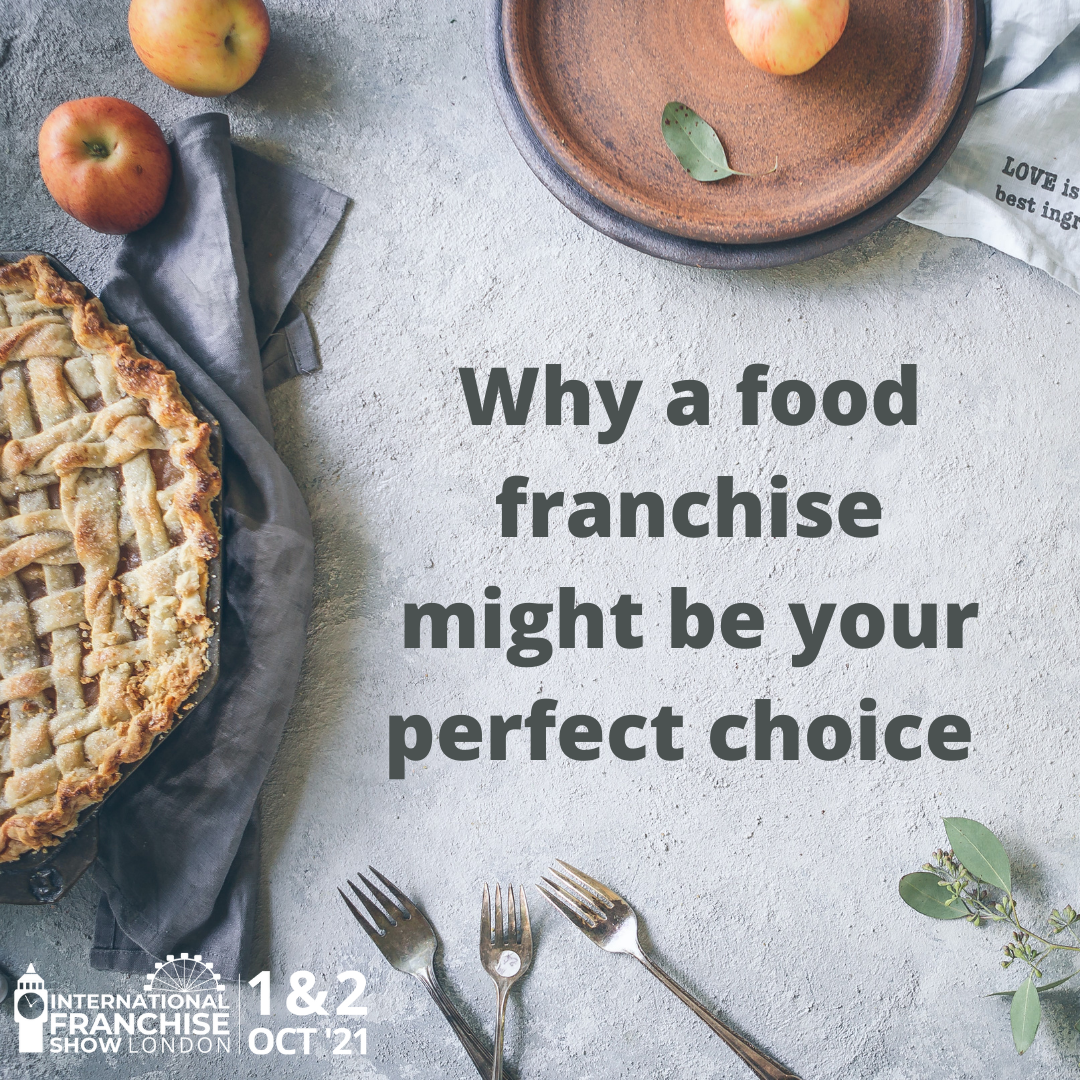 Have you been considering a change in your life? Do you like the thought of becoming your own boss, but have concerns about failing? You might want to consider the food franchising industry for your investment.
The difficulties we have faced with pubs and restaurants over the past year have been major, with many global lockdown restrictions causing closures both temporary and permanent. But as we emerge from the pandemic, now could be the perfect time to invest in a food franchise.
Food franchises can be seen on every corner of the high street, with new locations popping up every day, being the most popular segment in all of franchising sectors, and predicted to continue growing.
Not only this, but due to the hospitality sector being so badly hit, it has become a major priority for the government to provide incentives and show their support to the industry. In fact, Rishi Sunak, Chancellor of the Exchequer, in the UK 2021 Budget, laid out a number of measures which provide advantage to those who want to start their own restaurant franchise in 2021.
This lays out that restaurant franchises will pay lower rates of VAT until March 2022 at least, meaning that the current reduced rate of 5% on goods and services will continue until September 2021. This will be followed by a transition rate of 12.5 VAT in the following 6 months. These businesses will also receive business rate relief of 66% until the end of March 2022. If this is not selling you on the thought, the UK government has also frozen duty rates on alcohol until the end of the financial year, providing a larger number of customer incentives.
Here are just a few food franchises you'll see at the show:
Chicking UAE - stand #218
Chicking UAE is a fastly growing Halal International brand from Dubai. Chicking UAE first established a presence in 2000, growing ever more popular each year since. Chicking is one of the first fully 'Halal' international quick service restaurants brands from the UAE.
They serve globally more than 1,500,000 customers per month, with customers appreciating their exciting and varied menu inspired by taste cultures around the world.
Take a look at their website here: https://www.chickingglobal.com/
Chicago's Pizza with a Twist - stand #US14
Pizza with a Twist crafts their healthy and tasty pizzas with ingredients and flavours from all over the world. They offer options for all; vegan, vegetarian, keto, gluten free, and halal.
Their food franchise offers a wise and timely investment, with CPT leading the revolution in the pizza industry. CPT focuses their efforts on making family welcoming in-door dining experiences, alongside offering a revolutionary takeout and delivery experience with AI technology.
Take a look at their website here: https://www.chicagospizzatwist.com/home
Southern Fried Chicken - stand #1004
Southern Fried Chicken offers delicious freshly fried and grilled chicken, cooked in their own unique blend of authentic herbs and spices. Their menu has something for everyone, backed up by over 40 years of experience in delivering both a sustainable and scalable business model delivering fast growth and a rapid return on investment.
The family owned and operated franchise has their HQ a short drive from London, with restaurants in over 19 countries, being able to adapt and develop in developing markets with ease.
If you want to learn more about them and their investment opportunity look here: https://southernfriedchicken.com/
Sweet Gallery trading as Ice and Roll - stand #902
Swirl ice cream is of buzzing popularity. Their continuous popularity is fuelled by Polish people's fascination with street food. The franchise fits perfectly into the European street food culture, with their constantly growing business model with networks of ice cream carts situated around the most popular cities, their brand is becoming widely recognised.
Find out more about this opportunity here: https://iceandroll.eu/
Restaurant & Takeaway Innovation Expo - stand #910
Are you looking to boost your current food franchise? Europe's leading event for takeaway and restaurant owners looking to boost their profits, the Restaurant & Takeaway Innovation Expo, will return to London's ExCeL on the 9th & 10th November, showcasing the innovations and technologies that are changing the face of the business. With your FREE ticket secured for the show in 2021, you'll be given exclusive access to the most incredible line-up the show has ever seen. With over 1000 incredible exhibitors showcasing the products and services making waves in the sector, 500 fascinating seminars led by the industry's leading minds, and an amazing array of panel debates and spectacular networking opportunities. Designed for restaurant & takeaway professionals looking to accelerate the growth of their business, the show is packed with innovations that are redefining the industry.
Register for your FREE ticket now at takeawayexpo.co.uk.
These are just a few of the many food brands you will see at the International Franchise Show. So if you are looking for an investment in the food franchising industry, come along to the show on the 1st and 2nd of October 2021, at ExCel London. Get your free tickets here: thefranchiseshow.co.uk
Sources:
https://chapspitbeef.com/reasons-to-invest-in-a-restaurant-franchise/
https://franchisebusinessreview.com/post/invest-food-franchise/
https://zacsburgers.com/reasons-invest-fast-food-franchise/
https://modernrestaurantmanagement.com/why-now-is-the-perfect-time-to-invest-in-a-restaurant-franchise/