27 Jan 2022
Double Award Success for Extra Help!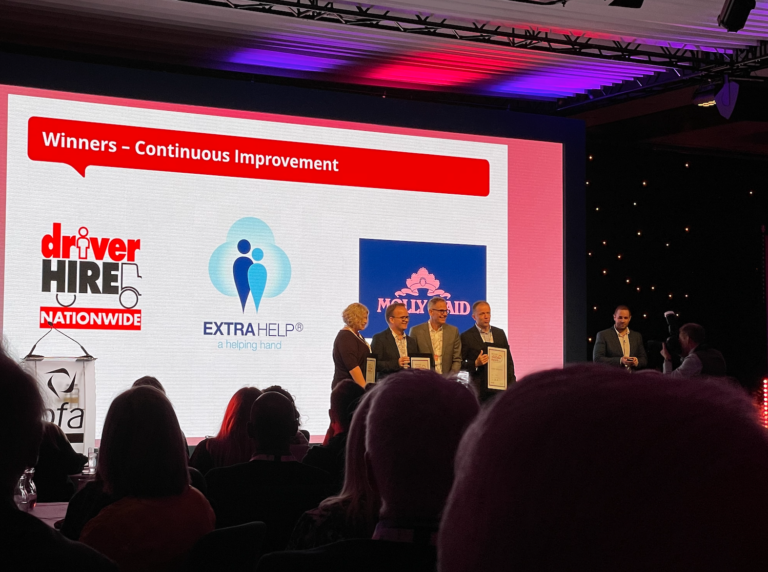 Do you want to join an award-winning franchise network? Well, you've come to the right place…
We're thrilled to announce Extra Help has won not one, but TWO awards within the last few weeks. What a fantastic end to a great year for us!
Extra Help wins Continuous Improvement Award
At the end of November, Extra Help attended the British Franchise Association Annual Conference in Birmingham. The objective of this annual conference is for the franchising community to come together and celebrate our individual achievements, whilst networking and learning together.
The conference itself was well worth attending, with many inspirational speakers and sessions. After another year of uncertainty that has brought us all many challenges, we were thrilled to be able to attend this event, especially as we were chosen to receive an award there!
Extra Help won a Continuous Improvement Award, presented by Work Buzz, an employee engagement platform that enables franchisors to gather real-time feedback from their franchisees via satisfaction surveys.
When we entered the Work Buzz Best Franchise Awards, our franchisees were invited to complete a satisfaction survey and, once their feedback was received, the judging panel chose the winners based on the overall scores.
That's why this award is particularly important to Extra Help. It proves our franchisees are happy and recognise our commitment to constant network improvement. We were particularly pleased and proud to be recognised for franchisee satisfaction in the presence of our peers from across the franchising sector.
Extra Help named as one of Elite Franchise's TOP 100
We've just learned we've been chosen as one of Elite Franchise's TOP 100 UK franchises!
The HSBC Elite Franchise TOP 100 franchises are judged on eight, core criteria that help the independent judging panel evaluate entrants based on their size, growth, objectives, contributions made to the franchising community and plans for the future. To be named as one of the TOP 100 is an incredible achievement for Extra Help and we're so grateful to our franchisees for their contribution in helping us to build a strong, thriving network, despite the pandemic.
The network has continued to grow over the past year, with 35 franchises now running across the UK, enabling us to offer our valuable home-help and cleaning services to even more local communities. Our franchisees continued to work incredibly hard throughout the pandemic, thinking of ingenious ways to continue helping their clients, even those who were self-isolating due to being elderly or vulnerable. These services included shopping, prescription collections, window cleaning, dog-walking and gardening, as well as checking in on elderly relatives for people who weren't living close by.
Extra Help's managing director, Claire Robinson, said:
"I'm absolutely delighted Extra Help has won these two awards – it's a true testament to the resilience of our franchisees and the strength of our network. To be able to help elderly people continue living independently, as well as busy people who need assistance with day-to-day tasks, is incredibly rewarding in itself. There aren't many businesses that offer the chance to make a positive difference to people's lives, along with being a part of a family-like franchise network, where everyone looks out for each other, and it's wonderful to see our work being recognised."
If you have a passion for helping others and would like to join an award-winning franchise network, offering much-needed home-help services to your local community, visit our website or call us today on 01752 905790.