20 Jan 2022
East Nottinghamshire Franchisee Finalist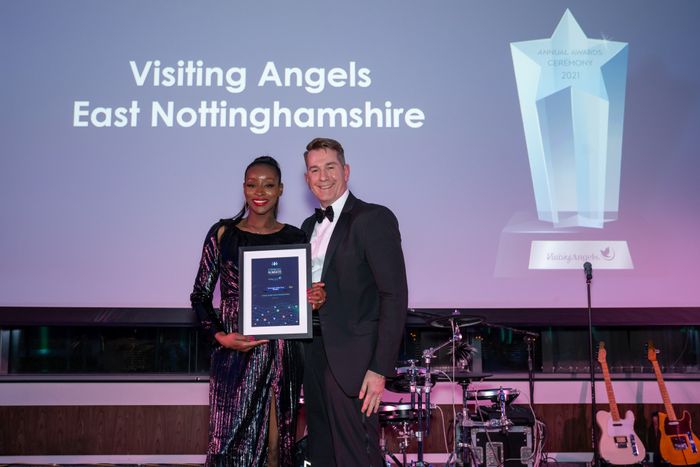 National award success for local mum bringing sustainable social care to East Nottinghamshire
Beginning her career by helping young people to find their dream apprenticeships and give them the best possible start in life, Kya Safari's new challenge sees her remaining committed to helping those in need. Motivated by personal experience and a genuine desire to make a difference, Kya Safari has launched her in-home care company, Visiting Angels, committed to bringing the highest quality of personalised care to those who need it in East Nottinghamshire.
Nottinghamshire has one of the highest proportions of elderly people living in the UK, with over 65s making up 21% of the population1. With this large number of vulnerable people living in the region, along with her own personal experience of becoming the primary caregiver to an immediate family member, Kya Safari is determined to ensure those in her own community don't go through the same turmoil and suffering that her family did when it came to exploring social care options.
"I know first-hand the poor state of social care that many people are being subjected to in this region. My brother was just 29 when he was diagnosed with rectal cancer - our lives became a living nightmare as we experienced a horrifying level of care that was provided to him. I was going through my second pregnancy but was thrust into the position of his primary caregiver. We were not listened to, his preferences were ignored and our privacy was not respected. What we felt we needed at the time was compassionate care, companionship and a sense of support.
"Emerging from this experience that upended our lives, I was deeply motivated to become involved in care service provision and offer services I felt are greatly lacking. My aim is to provide clients with the highest quality of services that make them feel valued, respected and cared for."
Kya's performance is already matching her ambition, she was runner up in the 'Newcomer of the Year' award at the annual Visiting Angels conference. Being shortlisted means a lot to Kya, who was delighted to receive the recognition for the dedication and passion she has already shown to improving the state of social care in Nottinghamshire, despite not expecting it to come so early in her time running her Visiting Angels office.
Visiting Angels' 'carer-centric' approach sets it apart from other in-home care providers. Carers working for Visiting Angels feel valued and respected for their commitment to the sector. Through both financial rewards and opportunities for career development, Kya and the Visiting Angels team are determined to address existing issues surrounding the industry, which often leaves carers feeling unappreciated and unmotivated.
"What's different about Visiting Angels is we ensure the carers are looked after which has immensely positive repercussions. The carers that came to care for my brother wanted to do the work but simply didn't have the time, they were overworked or the management just wasn't there for them. We ensure we give carers enough time and resources to give each client the best possible service and cater to their individual needs."
Kya's Registered Care Manager, Glendah Mugadza, has been the other driving force in the care provider's early achievements and a big reason behind the recent awards success. "I'm a self-motivated person who is passionate about improving the quality of life of my clients. I have seven years of experience working in the health and social care sector. My career choice was greatly influenced by my personal experiences as well as my work as a health care assistant, support worker and as a nurse.
"I met Kya through a family friend and she would ask me questions, as a nurse, about what I thought the problems with social care were. I would tell her that people can't find the right packages or the right people to value and genuinely care for their loved one's individual needs. I believe in providing person-centred care to support clients' needs in a holistic way, but I also believe in a care service that is carer- centric, listening to staff members and treating them with respect and tender affection. Only in this way can the care sector start to work for everyone - carers, the cared for and their families too."
For more information about the care being supplied by Visiting Angels, please visit https://www.visiting-angels.co.uk/eastnotts/