07 Jan 2022
Ed's story from franchise recruiter to franchise partner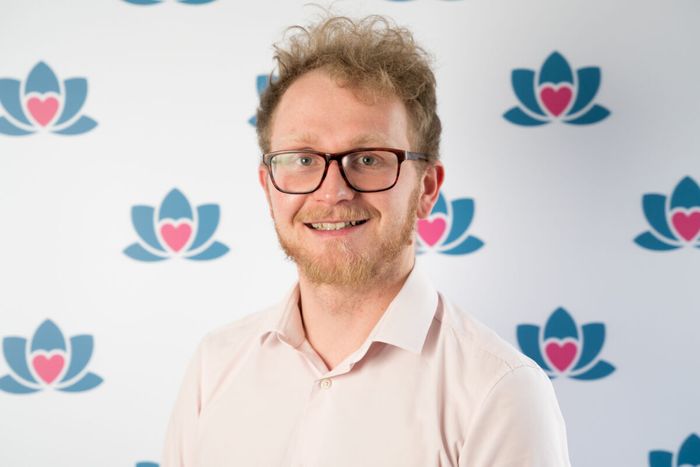 From franchise recruitment to Franchise Partner; Ed's journey
Ed Gill previously worked for the Radfield Home Care national office for nearly 4 years as a Franchise recruitment Manager, helping others find a way into the Radfield network and launch their own Radfield Home Care franchise.
During the course of 2021 Ed made the bold decision to swap roles and become a franchise partner himself. He has now opened Radfield Home Care York, Thirsk & Rydale, so we had a chat with Ed to find out why he chose to give up a stable and lucrative career to open his own business.
What did you do before working for Radfield Home Care?
I worked with another home care franchise organisation for a couple of years in their marketing team, supporting their 90+ businesses with marketing, networking, recruitment, social media and all that sort of stuff to help their businesses grow. Following that I then joined Radfield working with the existing network to get a handle on how their businesses grow and what makes a successful home care business and then communicate that to potential candidates. During that time I've had a real understanding of all the different areas of operating a home care business, from compliance to marketing to financials to operations, so it's given me a really good insight into all areas of operating a home care business.
You played a massive part in the growth of Radfield Home Care, so why would you want to leave all of that hard work and go into business for yourself?
Through the journey with Radfield I was very involved with helping businesses look at their marketplace to understand how to generate a really healthy, quality focused and financially secure home care business.
Then something triggered and I thought I'm in a fortunate position now where maybe now is the right time to do something for myself.
My partner and I were also considering relocation back to Yorkshire, where she is originally from, to be closer to her family as well as enjoy a part of the country we both really love. I started to look at the territories available in the region, and I recognised huge potential to develop a healthy business covering York itself as well as remote rural areas that presented a lot of untapped opportunity. After some discussion, we decided it was the right decision and timing to make the move back up north and start to create a business for ourselves using the knowledge and skills I had developed with Radfield and other home care businesses over recent years.
Do you think a franchise gives you the support you need to enable you to be successful and why didn't you just use your knowledge to launch a business on your own, without the costs associated with a franchise?
Fundamentally you can build a really, really successful business being part of a franchise, so for me being part of a franchise network is a no brainer. I've also seen first-hand how much support you get from the National Office team who will help with everything, even little things that you don't necessarily think about. The support you get fills in all of those gaps, it helps me to play to my strengths and get the help I need to be successful. The other thing I'm really benefiting from is having peers in the network that I can just pick up the phone and have a conversation with. People who are on the same journey as me and who have already trodden this path.
So you would say that being part of a network has real world benefits for your business?
Absolutely, one of our first clients was a referral from our neighbouring territory. I'm always talking to people about the fact that we are a national network with 25 locations, how our nearest neighbour is just over the way in Harrogate and all of a sudden, they feel like they're not talking to a new start up business, they're talking to a business that is allied with the Harrogate branch who have been there for 4 years, is looking after 100 people etc. The power of our network is really helpful.
I want to be a real living wage accredited employer and the Radfield model with over 90% of the network being Real Living Wage Accredited was a big draw for me. I can give people jobs that are incredibly meaningful and personally satisfying, not just minimum wage, run of the mill jobs and that is something that is extremely important to me.
If we look after our Care Professionals really well, they will deliver a high-quality care service to our clients. If all I'm thinking about is looking after the clients and not worrying about the staff there's a massive disconnect and the service will suffer. So, that's what I really enjoy, creating fantastic jobs, looking after my Care Professionals and team and empowering them to provide exceptional care to my clients.
Radfield Home Care have just launched the BeThere campaign and have a new brand identity for 2022. How do you see this making an impact?
I think it's great, I think it really helps to communicate that Radfield has a clear purpose which is to help our nation age well by remaining connected to the things that matter most. Whether that is a client's sense of self, their independence or connections to friends, family or activities. We can be there for them and enable our Care Professionals to excel at making this come to life for our clients. We are all working together with a shared purpose as a national organisation to deliver this to people in our local communities.
What would you say to other people thinking about starting a business in the care sector?
In terms of tips and advice, the first thing is "know your local market place" and know it like the back of your hand. Know your competition, know what they're charging, know how they're treating their staff and what the quality of care they deliver is like. These things are really important when you're talking to people about delivering a high quality care service.
Also, while it is really important to have a firm grasp of the numbers, I genuinely believe that to succeed in this sector, you have to be a people person. Don't get me wrong, you don't have to be the type of person who walks down the street and strikes a conversation with every person they walk past but you have to be able and willing to relate to people. When you have a Care Professional or a client calling you to ask for support, you have to want to have that conversation with them. I believe quite firmly that the reason we are doing so well with our recruitment is because we're investing time to listen to and understand people. Communication is always absolutely key to success.
If Ed has inspired you to consider becoming your own boss and operating your own business, then keep an eye on Radfield Home Care Franchising's social media over the next few months as we investigate the opportunities to Franchise After Furlough. We will be speaking to more franchise partners like Ed, uncovering some impressive stats behind the success of the UK's franchise industry, and sharing more information specifically about operating a home care business - especially in the wake of the Covid-19 pandemic.