27 Jan 2022
Extra Help Conference a Resounding Success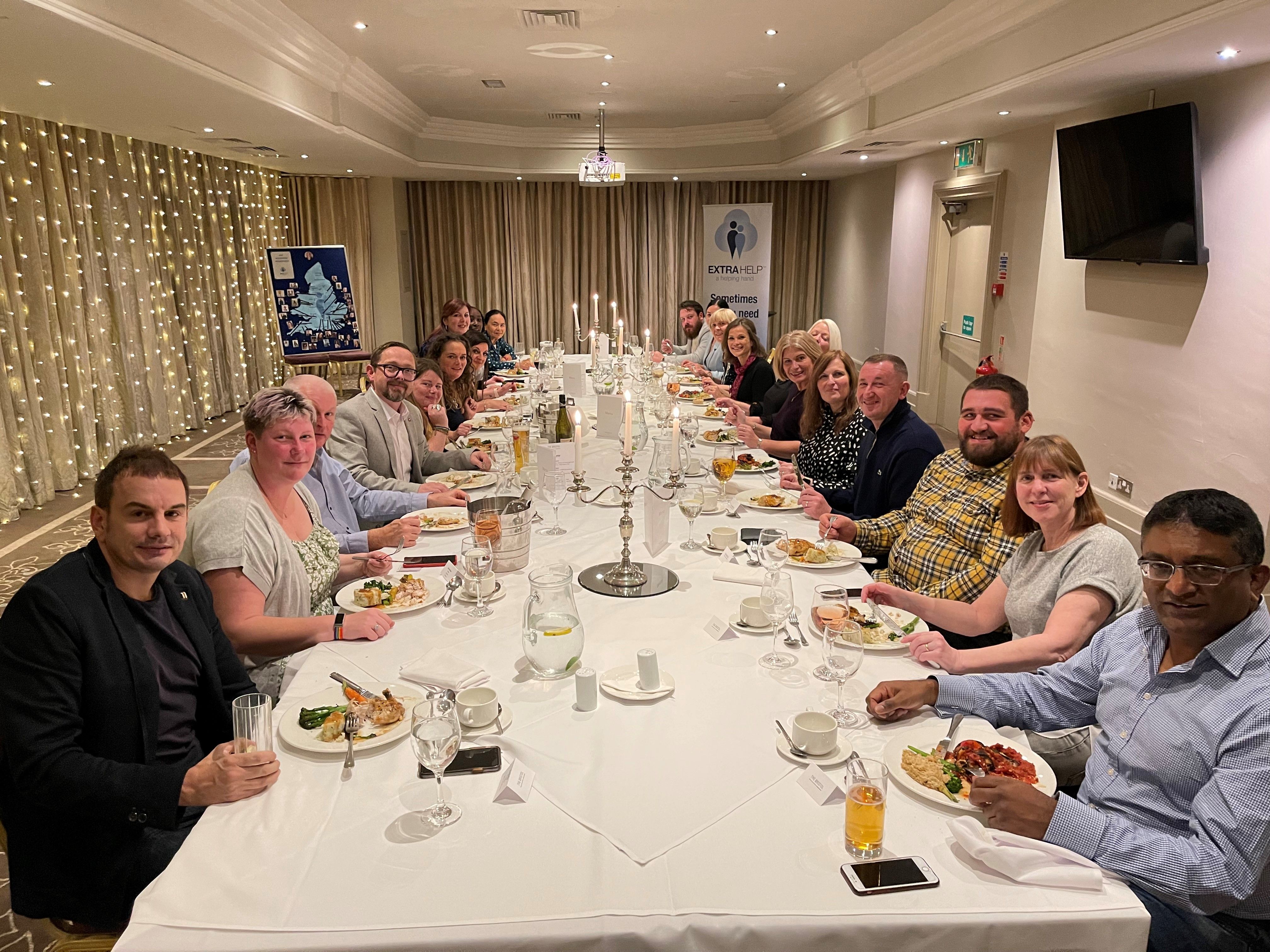 We've just returned from the Extra Help Annual Conference, which was held at The Bristol hotel last week. Read on to find out what we got up to…
If the recent pandemic has taught us anything, it's the value of face-to-face interaction in building positive, working relationships. Due to lockdown, many Extra Help franchisees had never actually met each other before, only seeing each other online during our virtual meetings. Some of our recent franchisees had never even met our Head Office team, so we were all looking forward to a long-overdue catch-up and, as the date drew nearer, hoped there wouldn't be another lockdown.
Fortunately, our prayers were answered and the event was able to go ahead as planned. Several franchisees arrived the night before the conference and went out for dinner with the Extra Help Head Office team – a lovely start to the proceedings!
Conference Day 1
The conference began on Monday morning with an introductory speech by Claire Robinson about her journey to become the founder and managing director of Extra Help. We then heard from several, existing Extra Help franchise owners about their own experiences of building their businesses.
After lunch, Berkeley Harris, managing director of Sandler Consultancy, ran two enlightening workshops. The first focused on building a strong, 30-second commercial or 'pitch'. This will ensure franchisees provide clarity when pitching their home-help and cleaning services and encourage potential customers to learn more. We also discussed the problems and headaches they solve for their clients.
After the first workshop, the British Franchise Association gave a talk on the services they provide. This included their franchisee membership, which several Extra Help franchisees signed up to straight away.
Berkley Harris's second workshop provided training on building a growth plan and working to it. Franchisees were given examples of measurable growth plans that will enable them to build their own. They also learnt about the various routes to finding new clients, expanding their services and gaining referrals from them.
The Extra Help Franchisee Awards
At the end of the afternoon, we presented the Extra Help Franchisee Awards. We are delighted to announce the following winners:
Most Improved Turnover 2021: Claire Rickson, Taunton
Most Improved Hours 2021: Carol Godding & Cath Arnold, Wirral
Most Improved Clients 2021: Julie & Paul Vernon, Telford
Hours Hero 2021: Michaela Nowik, Milton Keynes
Sales Superstar 2021: Denise & Dave Cooper, Leighton Buzzard & Rickmansworth
Winning Attitude 2021: Carol Godding & Cath Arnold, Wirral
Rising Star 2021: Mark Phillips, Wolverhampton
Team Spirit 2021: Sarah Canny, South Hams, West Devon & Bude
Highest Achiever 1st Year 2021: Adrian Preece, Shropshire
Highest Achiever 2nd Year 2021: Julie & Paul Vernon, Telford
Highest Achiever 3rd Year 2021: Beverley Fleary, Hammersmith & Fulham
Highest Achiever 4th Year 2021: Michaela Nowik, Milton Keynes
Franchisee of the Year 2021: Carol Godding & Cath Arnold, Wirral
Congratulations to all of our award winners! We're so proud of your hard work and determination to grow your businesses – you truly deserve your success.
Conference Day 2
Having enjoyed a lovely dinner together that evening, we reconvened on Tuesday morning for the last part of the conference, which was reserved for breakout sessions to process and discuss learnings from the previous day and subsequent ideas and suggestions.
The last session of the day focused on marketing, particularly the role of social media, platforms and reviews.
Franchisee feedback
We're pleased to say that initial feedback overwhelmingly suggests our franchisees thoroughly enjoyed our conference and felt it was well worth attending. Here are a few of the comments posted on our Extra Help franchisee Facebook group immediately after the conference:
"I've had a great couple of days at the conference! Thank you to everyone for welcoming me into the Extra Help family."
Samantha Bee, North West Leicestershire
"Thank you so much for a fabulous 2 days. Lovely to meet everyone xx"
Nicky Joyce, Torbay
"What a wonderful couple of days, I feel like I've learned so much. Best thing I ever did, starting this journey!"
Adrian Preece, Shropshire
"Paul and I would love to thank you all for all your hard work in setting up the conference for us all to attend. We are so proud to be part of the friendly Extra Help family!"
Claire Rickson, Taunton
We're extremely grateful to our fantastic franchisees for making the effort to attend our conference and for all their lovely comments. Our Extra Help family is stronger than ever and we've all returned from our conference with renewed energy, feeling very positive about Extra Help's future.