11 Feb 2022
Flip Out Push Forward with International Expansion at Excel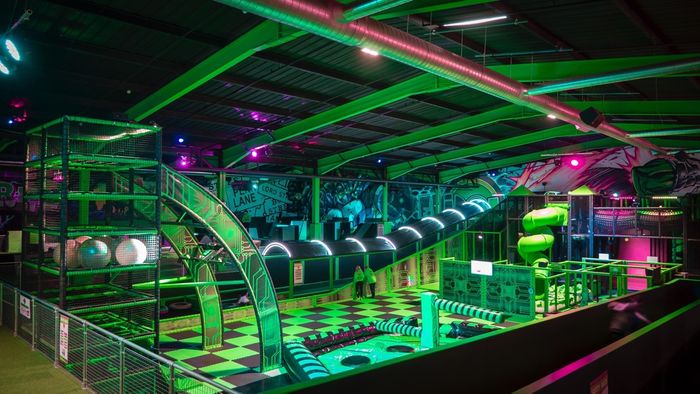 Flip Out, the internationally successful family adventure park operator will again be at the International Franchise show being held at Excel on stand 550 during the 8th and 9th April 2022.
With 26 sites opened in the UK and over 60 Worldwide the brand has successfully operated and grown using the franchise model since its launch back in 2012. Flip Out is currently the number one family entertainment centre franchise in Europe. We have a well proven business model with a strong customer proposition and experience that is shared with more than 10m fee paying customers a year.
Constantly looking for new experiences for customers Flip Out has gone from being a 1 hr trampoline-based park to a full-blown adventure park offering bumper cars, ice rinks, laser quest, crazier golf, soft play, 5 a side football, arcades, party rooms and fabulous food offerings in the on-site café a must for families to share time and experiences.
Flip the switch to make our vision your reality
Flip Out have proven the concept, created the systems and supplier relationships necessary to open sites around the world and have a vision to grow substantially internationally over the next 5 years. Our immediate plan, over the next 18 months, is to open new territories plus, more than 30 new sites worldwide. We want to find like-minded adventurous partners to work with us on several levels to achieve this.
Franchisee – Open a site in an established area managed by a master franchisee.
Area Developer - For those who have the means and desire to open more than one site from the beginning still within the master franchise relationship.
Master Franchisor - We welcome prospects from all over the world, and they often wish to open sites in a specific country where we may not have a presence, this is when we discuss the Master Franchise model. This business model is different to those of the above, however, we do have some masters who also own Flip Out sites and combine the two models.
Investor - This is your opportunity to own or invest in a Flip Out but where you are looking for an operating partner to run the business.
Operator - This is where you may have great experience that would be right for operating a Flip Out and either you or we have an investor or two who could benefit from your input, so we team you up and set you on your journey.
Visit us on stand 550 at the International Franchise Show where one of our team will be happy to share how you could come on board and take advantage of the proven model and resources we have to help make your franchise dream a reality.
Contact details: Head of Franchise Recruitment Paul Murphy Tel: 07740 174955, e-mail pmurphy@flipout.co.uk
Director of International Development Jon Inwards Tel: 07507 706134, e-mail jj@flipout.co.uk