Franchise watch: Helen Doron Educational Group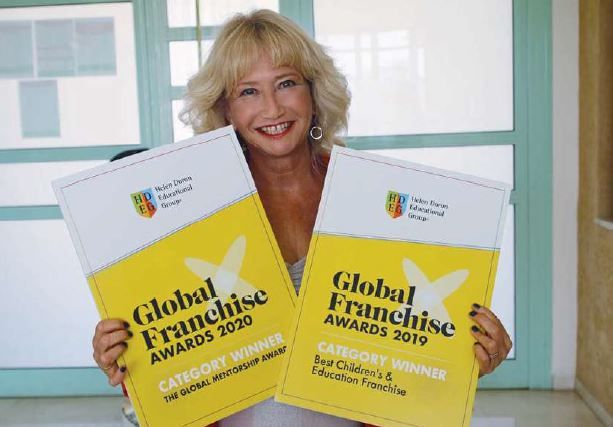 This award-winning educational franchise puts children first while offering you a fulfilling business
How often do you get a chance to do what you love to do, make a positive impact on countless others, and feel that you are a part of something truly meaningful – all while building your own successful business venture?
With over 1,000 learning centers for children of all ages in 37 countries, Helen Doron Educational Group is more than a leading, award-winning educational franchise ̶ it is a community of passionate professionals using a proven methodology encouraging a love of learning.
Find the franchise business model that best fits your aspirations:
Helen Doron English & Spanish: Our flagship franchise offers programs that enable children to learn English naturally in a fun and effortless manner through games, stories, songs and innovative apps.
MathRiders: Enhancing children's natural mathematical skills through hands-on, explorational learning. Students ages 4-18 learn maths using games, music and innovative learning techniques.
Helen Doron Acedemy: A lifelong love of learning, offering optimal stimulation and development for young minds and bodies. The unique and carefully planned courses include English & Spanish, Multi-Music (songs in seven languages for linguistic sensitivity and brain stimulation), art, science, mathematics and specialized exercise programs that includes dance, yoga and pilates.
Behind you all the way
Over the past three and a half decades, Helen Doron has created a franchise program that nurtures its partners. When you decide to open a Helen Doron learning center or school, you are never alone – you have the full support of our professional team.
They will be with you every step of the way, answering your questions and providing you with the support you need to turn your business aspirations into reality. All you need is the passion for building an education-based business and the funds to make it happen. We'll help you with ongoing training and support in marketing, sales, administration and much, much more.
Keeping up with today's tech trends
The Helen Doron Group always has its eye to the future, making sure our educational materials speak to the new generation, utilizing the most advanced features current technology has to offer. Our interactive department is constantly developing new apps and games that our teachers and franchisees can use in class, as well as to enhance the learning at home, including our 24/7 radio station for adolescents, TeenBuzz.co.
More than a business. A way of life
Becoming part of our network has changed many business people's lives in ways they never imagined possible. Joining a successful international organization and growing your own profitable business is only the beginning. You are becoming part of a global community helping to prepare the next generation with the skills for life and the love of learning that will accompany them for the rest of their lives.
Be part of something extraordinary – become a Helen Doron Master Franchisor. Find out more today: marketing@helendorongroup.com
AT A GLANCE
Name of franchise: Helen Doron Educational Group
Established: 1985
Number of franchised outlets: Over 1,000
Location of units: Albania, Austria, Bosnia and Herzegovina, Bulgaria, Chile, China, Croatia, Cyprus, Czech Republic, Ecuador, Estonia, France, Germany, Hungary, Israel, Italy, Lithuania, Kazakhstan, Lichtenstein, Macedonia, Mexico, Montenegro, Peru, Poland, Portugal, Romania, Russia, San Marino, Serbia, Slovakia, Slovenia, South Korea, Spain, Switzerland, Thailand, Turkey, Ukraine, Vietnam & The USA.