28 Dec 2021
Gravity 2021 roundup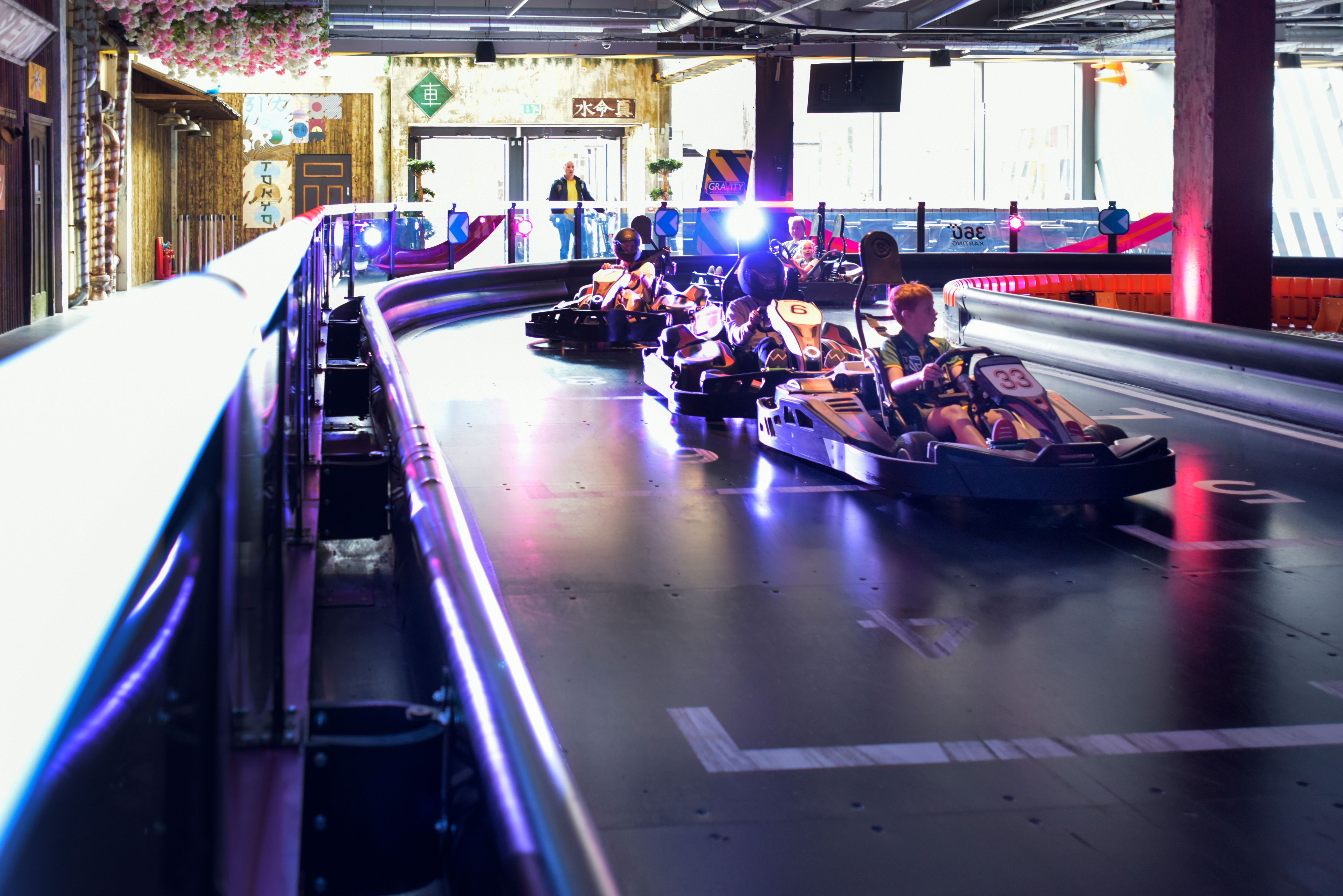 In 2021 Gravity opened 4 new venues, won awards, and welcomed a highly experienced new board member as we continue our growth plan in becoming the number one active entertainment leisure operator globally.
Gravity 2021 round up
The first half of 2021 was a difficult time for everyone, and Gravity was no different, with all our active entertainment and leisure venues closed in line with Government Covid restrictions.
This didn't stop us however from having a great second half of the year! We opened 4 new venues, won awards, and welcomed a highly experienced new board member as we continue our growth plan in becoming the number one active entertainment leisure operator globally.
Mid-August saw the opening of our first Gravity Flagship venue in Wandsworth, South London. 85,000 square foot of space spanning 4 floors houses a multi-level E-Karting track, spark technology bowling alley, urban street golf, a mezzanine full of FEC, 3 Electric Gamebox's, a dedicated competitive e-sport and gaming room, AR digital darts area, 3 bars and 2 restaurants…This was a real gamechanger for the active entertainment & leisure industry, as Gravity became the first company in the UK to create a big-box leisure destination venue.
We were also delighted to announce that Vanessa Hall joined Gravity as our newest Chairwoman in August. Having unparalleled experience in the leisure and hospitality industry, including being a director at Bass, All Bar One and Mitchells & Butlers, Vanessa joined Gravity to help us embark on our growth journey. "We have an exciting expansion programme as people look for shared leisure experiences with friends and reconnections with colleagues," comments Vanessa.
In September we welcomed new franchise partner Justin Okoli to the group as he opened his first Gravity Trampoline Park in central Luton. Situated in the Galaxy Centre, the 30,000 square foot of space features wall-to-wall trampolines, ninja run, wipe out, soft-play, party rooms, FEC arcades, next generation light and sound system, and a café. "We're thrilled to be able to open the doors and offer this fantastic experience to the people of Luton," comments Justin. "I'm a parent and resident of Luton myself and I know this facility will provide families, individuals and groups with a unique, affordable and fun experience in the town centre. It's been a real journey for me and the team, who are all local. It's not been without its challenges, but the outcome is a next-generation leisure experience not seen before in Luton."
In the same month we were thrilled to win the 2021 Entertainment and Leisure Operator of the Year award at The Global Retail and Leisure International awards ceremony. A great recognition of achievement for us!
In October, existing franchise partner Simon Gibbons opened Newtons bar in Warrington – a new interactive and social venue. Located next to Gravity Warrington Trampoline Park, the venue features an extensive cocktail list alongside a full menu of meaty, vegetarian and plant-based dishes. The leisure offering in the venue is AR digital darts, perfectly complemented by the New-York style theming. "As a business, the Gravity brand has grown exponentially across the UK since its inception six years ago and has become the go-to place if you are looking to have a great day out or just looking drinks with friends," says Simon.
Gravity Leipzig opened in November this year - the first Gravity venue to open in Europe. The purpose-built space totals 57,000 square foot and includes wall-to-wall trampolines, a ninja obstacle course, wipe-out, soft-play, party rooms, next-generation sound and light experience and a fully themed food and beverage offering. It also has a state-of-the-art Japanese themed E-Karting experience - the first seen in Europe. The site is operated by new franchise partner, Canadian born Rocky Maddex. "Given the impact from covid-19 and the changing high street, the Gravity opportunity came at the perfect time for me," said Rocky. "I'd been looking at ways to do something different, complimenting my business, home life and young kids. The Gravity model fitted the criteria, and I believe it's something I can scale in Germany. There is a real opportunity here to reinvigorate shopping centres."
"Our move into Europe is a significant step in our evolution as a brand and franchisor," comments Michael Harrison, Gravity co-founder and CGO. "Early on, we recognised that Europe represented a fantastic opportunity for us to grow the business and the franchise network. Leipzig is the first of those franchises, and we're confident more will follow."
We were also very excited to announce that we achieved Second Place at this year's Property Week Awards Deal of the Year - Commercial Property, for the Gravity Wandsworth venue in November. As well as achieving a fantastic deal on the site, in the first 3 months of opening we had already seen a 25% increase in footfall to Southside shopping centre.
At Gravity, we continue to grow our network of corporate and franchised sites in key locations across the UK, Europe and beyond and already have an exciting pipeline for 2022. If you are interested in joining the brand and becoming a franchise partner – get in touch today.