21 Mar 2023
Hearing about 20 years of audiology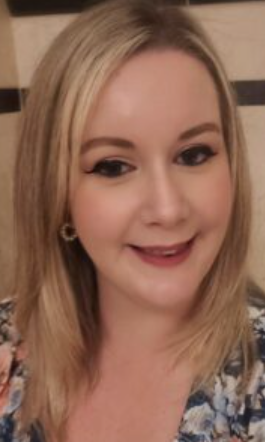 She's here to share the story of how a weekend job she got into "by accident" has led to a 15-year career and her "name above the door" of her own audiology business.
'My colleagues and I were so excited to celebrate 20 years of Specsavers audiology this year. We had a lovely visit from a colleague from the support office who came armed with balloons, chocolates, and lots of other fun things for the team to help us celebrate a fantastic milestone.
I've been lucky enough to work at Specsavers for 15 of those 20 years. I got into this job entirely by chance – and I love it so much I've just never left.'
How it all started
It was back in 2008, when I was completing my English degree I decided to get myself a weekend job as an optical assistant at my local Specsavers. I wasn't really sure what I wanted to do with my life, so I went full-time at the store and started thinking about going on a course to become a Dispensing Optician. However, as it happened, they actually needed an audiologist and my store director asked me if I'd like to train.
So, the year I graduated with my English degree I went back to university to train as an audiologist, qualifying in 2012. Once I qualified, I knew that I wanted my own Specsavers audiology business. My directors at the Farnham store couldn't have been more supportive and put me on Pathway, which is our internal course that gives you all the skills you need to move from clinician to business owner.
I can't tell you it was easy, but my store team was so supportive as I navigated that learning curve. I definitely made some mistakes along the way, but I passed the pathway successfully and took on Farnham as my own business in 2014. As time went on, I gained more knowledge and experience meaning I was offered the role of vice chair of my division, then in 2020 I became divisional chair. Finally, in 2021, I took on the Stratford store too.
Where I am today
So, today I'm the audiology partner for the Farnham and Stratford hubs, meaning I'm one of the directors and shareholders in both businesses on top of being a qualified audiologist. Both of the hubs have 4-5 spoke stores which me and my team support and deliver services for. I also work with my fellow directors to develop strategies that will grow and develop both the teams I work with and the business as a whole.
What's kept me here so long?
Well, for me it's definitely the community environment that Specsavers has. Even though we're all individually owned and run businesses, everyone's so passionate and excited by what we do and the values we live by. People say you become "green-blooded" when you join the business and I really do think that's true. It's the people that make it a special place to work – both your colleagues and the customers whose lives we enhance every day.
It's a very positive culture and I feel so lucky to be a part of it.
There's a genuine desire within the company to support all colleagues to learn and develop as much as possible. I'm just about to start a coaching course and feel really honoured to be able to give these opportunities to my team as well. My entire clinical team in Farnham gained their qualifications while working in my team.
Life as a business owner in audiology
Coming into work every day knowing your name is above the door is an incredible feeling. On top of that, it's so rewarding to see all the work we're doing to help people with hearing loss in our local area and knowing I'm the one running the business that's made that possible.
The last 15 years of my career has given me a front row seat to some amazing advances in hearing technology and hearing aids: rechargeability, direct Bluetooth streaming, apps for functional control to name just a few. It's as fast paced as anything else in the tech sector and I'm so excited to see where we'll be in another 20 years!
My advice to anyone wanting a career in audiology
Well, first thing's first: go for it! Helping someone to find sounds that they've lost, sometimes for years, is endlessly rewarding. I don't think people realise how isolating it can be when you can't really hear well, especially with friends and family getting frustrated about having to repeat themselves. After a while, people stop trying to get involved in conversations because hearing what's being said is such a struggle and they get embarrassed about having to repeatedly say "What?" or "Pardon?"
So correcting people's hearing isn't just about improving the patient's life, but those around them too, because suddenly they're able to be part of the conversation again. I can't tell you how lovely it is to hear from a partner, son, daughter, grandchild or friend that they feel like they've got that person back again. There really is no other job like it.
Why Specsavers?
And Specsavers is a great place to do it. You get access to great equipment, amazing products, continual opportunities for development as well as a fun and positive working environment. For me, the most important thing is our core principles of delivering the best hearing care to our customers, and I think that's one thing that definitely won't change in the next 20 years, as it guides everything we do.
If this all sounds good, I'd say take a look at the current vacancies! And who knows, one day it could be your name above the door…