20 Sep 2021
How can we make virtual communication more personal?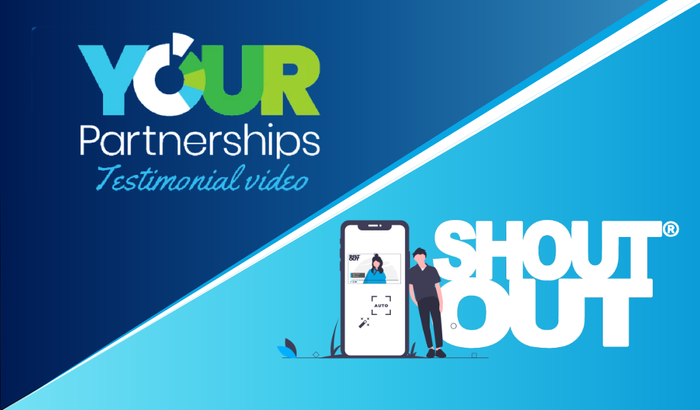 Your Partnerships have recently begun to use ShoutOut, a new automated video builder which can instantly turn mobile phone footage into fully-branded, captioned and shareable videos.
With the onset of the pandemic, I think we have all felt how distant online communications can be. Many of us have never met our colleagues in person, and the industry events that could once put a face to a name have shuddered all at once to a halt. For many, if not all businesses, it's a game-changer.
Take for example, Your Partnerships, a global networking community with partner branches all over the UK and beyond. Their business was built around face-to-face networking events, workshops and activities, all of which had to stop.
They were always able to empower their businesses to build connections with one another across their local area at in-person events, and therefore promoted themselves on the strength of the lasting connections this approach could form.
Out of necessity, Your Partnerships has successfully made all of its events virtual until it is safe to do otherwise. However, outside of these events, it was initially hard for Your Partnerships and their partner branches to find ways to make their online communications feel as personal as they wanted them to be, now that they were so much more central to the business.
It isn't an easy thing to get both your message and your personality across via email or text posts online - as we all know too well. Your Partnerships revolves entirely around its people, and the genuinely supportive atmosphere they are able to create is something they naturally want to reflect in all of their communications.
It was this goal which drew them to video communications; as a way to put a face to the invitations and announcements of each partner branch, and to platform the members that make their community great.
Video communications also do considerably better at reaching new people on social media, and are far more likely to result in the audience engagement that written communications struggle to get.
However, few companies believe they have the ability to make the level and quality of video content they would like to without spending more than they can afford. This doesn't need to be the case, as new options are arising to make this a form of communication as easy and interactive as writing a tweet.
Your Partnerships have, for example, recently begun to use ShoutOut, a new automated video builder which can instantly turn mobile phone footage into fully-branded, captioned and shareable videos. One of its strongest features is that it allows you to easily collect and convert contributor videos into branded content, as well as anything of your own you upload, via ShoutOut's upload links.
In no time at all Your Partnerships have been able to scale their video creation. Their local partners are now able to easily create their own video content, while Your Partnerships retain control of their branding by managing the ShoutOut video templates that their parters use.
ShoutOut has changed the way Your Partnerships communicates; whether they are sending invitations to virtual events, making company announcements, or sending messages to their team. Just looking at their social media now, you can instantly see how it has changed the way that Your Partnerships market themselves.
It really speaks to the quality of their network to see just how many video testimonials they have been able to gather and release in the time since they begun to use ShoutOut. Now, the people at the heart of their business are also at the heart of their marketing, presenting the network as what it truly is; a strong community that has helped countless businesses and small business owners to find the support they need.
See what Your Partnerships have created and continue to create on their some of their social media & on their LinkedIn.
For other companies who are interested in expanding their online presence via video, contact ShoutOut via www.shoutout.social.