Modern, child-centered education at Logiscool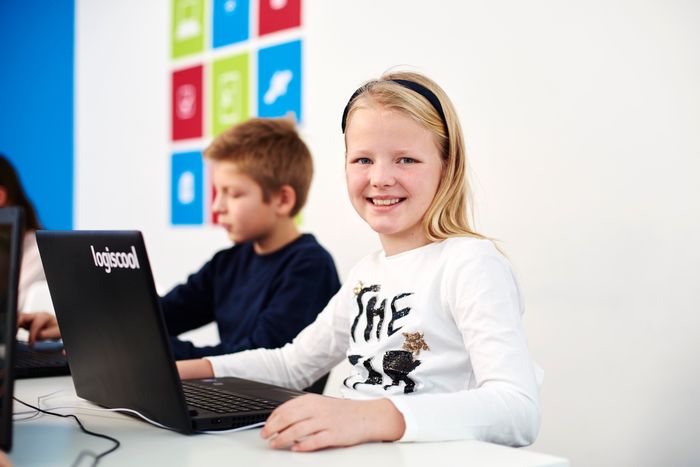 If you're wondering what skills to teach your kids to ensure they're equipped for the future, make sure that you put digital literacy and computer coding at the top of your list. These are two valuable skills to help prepare them for our digital future. They both require technical skills, but use many of our cognitive skills too.
However, the way we teach digital literacy and coding is important. Logiscool pays attention to all the critical details within the learning process that builds valuable lifelong skills which enable kids to thrive in the future. Our approach is fun by nature, and we believe this is fundamental to get kids excited about learning.
Our child-centered methods:
Fun-based education
We have an effective fun-based approach, which we've followed successfully for many years. We make it possible for kids to learn in an enjoyable and engaging way through interactive and practice-oriented lessons.
Project-based approach
Our objective is that students go home feeling a sense of joy, having created something cool from each lesson. This gives them something they can be proud of and able to share with their friends and family. The curriculum is split into concise, exciting projects which give constant motivation and age-customized challenges to each and every student.
Collaboration and communication
In our small-group classes, as well as during independent work, kids also maintain relationships and solve problems with the help of their trainers and other students, which strengthens their collaboration and communication skills. These are key skills for the future.
Unbeatable curriculum and equipment
We've developed our own, world-class education platform in order to enable kids to learn coding easily and with pleasure. Students build their projects with digital blocks and later they can seamlessly switch to written code through our unique system.
Computer coding creates a shift in the student from being a passive user of a digital devices to an active creator for them. Our 800 lessons of creative, professional, and continuously developed coding curriculum assures that the natural curiosity of kids will turn into a useful and effective learning process.
Well-prepared, young trainers
We have a dynamic team of skillful and young trainers from different professional backgrounds, such as programmers, mathematicians and physicists. The common theme with all our trainers is that they're all close to the digital world and have a passion for sharing knowledge with the next generation. Through careful selection, training, and continuous development we guarantee that our trainers will know exactly how to teach and motivate kids for success.
Inspiring, supportive environment
We believe that the direct trainer-student relationship, the social experience, and the many practice-oriented tasks will all contribute to the quick development of kids. Our schools have a modern, office-like feel to them, where parents are also welcome to share in the joy of their kid's success. Our LIVE online lessons are also performed in a modern, safe, and inspiring environment for children.
We give room for creativity in the digital scene through our community building site: 'MyLogiscool.' Through this channel, Logiscool's students can participate in entertaining challenges, test their knowledge with fun quizzes, and try out each others' projects.
We teach much more than coding
It is key in the digital world (and outside of it) to continuously develop and stay open to 'new'. Learning coding comes along with many valuable skills which are important to kids for a successful future. At Logiscool, students can learn much more than just coding. They can try other areas such as robotics, video editing, digital graphics and game design. Different courses and camps can be taken in succession or simultaneously to complement each other, and this way the learning process can be customized to the current interests of the kids.