30 Dec 2021
Peckwater Brands: delivering the goods in the virtual brand space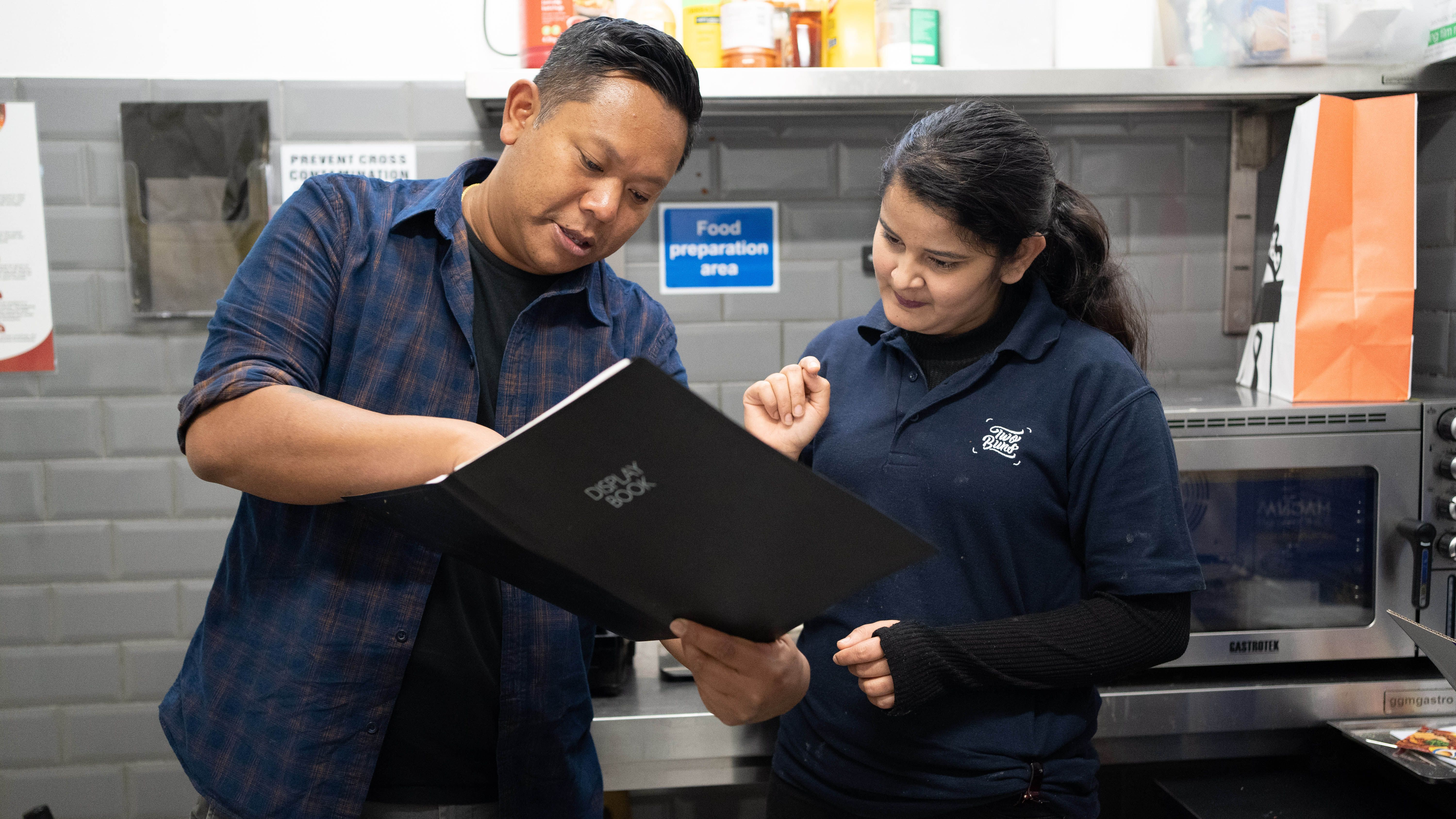 Venues can survive due to food delivery, from concept to launch, meet our brands and our scalability
Peckwater Brands (PWB) runs virtual restaurant brands, specifically designed for delivery. This is an innovative model in the growing cloud kitchen/ delivery-only space. The clever part: they're run from existing kitchens. The Italian restaurant you love on the high street? It's also a Mexican and a Korean restaurant.
The difference between PWB and other traditional franchises is that our brands are licensed to operators for them to run alongside their existing brand and kitchen operations, meaning that they make more revenue from the same fixed overheads. Partners can earn an incremental revenue of between £130,000 and £500,000 per year.
The company was founded in 2019 by Leo Bradshaw, CEO, and Sam Martin, COO.
Leo was previously associate director at Fairgrove Partners, providing transaction support and growth strategy for private equity firms and their portfolio companies. Before that he worked as head of strategy and insight at Ingenuity, a specialist consultancy to the marketing industry.
Sam was previously UK&I general manager at Karma Kitchen (the $252m-funded dark kitchen operator), after he left his previous role as head of innovation at Uber Eats UK&I (he was also previously head of commercial operations and emerging channels).
VENUES CAN SURVIVE THANKS TO FOOD DELIVERY
It's been a tough year for the hospitality industry. Already highly challenging trading conditions were made exponentially more difficult as a result of the pandemic, with the rate of venue closures accelerating due to COVID-19, the number of restaurants closing in the UK has increased from 1,412 in 2019 to more than 7,000 in 2021. This is because having a physical restaurant means large overheads, such as rent and equipment; these didn't go away over lockdown.
Many venues survived thanks to food delivery. Since 2016, the food delivery market has boomed and is now worth a whopping £11.4bn. The number of people using food delivery platforms (Deliveroo, Just Eat, Uber Eats) is growing at 11 per cent per year and is expected to account for more than a fifth of the UK population by 2024. Tapping into this market is a great way to increase revenue, so developing a food delivery service makes a lot of sense. But this can be a difficult – and perhaps daunting – process for some restaurant owners and managers.
Virtual restaurants are our solution to this. We let restaurants run multiple brands out of a single kitchen, which adds incremental revenue without adding to their overheads. We help restaurant partners use their existing staff and kitchen capacity better, and help keep struggling businesses running, all whilst adding choice to consumers.
Unlike investing in traditional bricks and mortar franchises, there are no high sign- up costs or changes to an existing brand/ business. PWB offers commercial kitchen operators – restaurants, cafes, universities, and so forth – everything they need to sell our brands to consumers through food apps Deliveroo, Just Eat and Uber Eats.
FROM CONCEPT TO LAUNCH
We've spent our time building our initial concepts and getting these ready for launch by perfecting the product and ensuring a seamless implementation model.
Step 1: Ideation – we've developed partnerships with major players in the industry to ensure all concepts are driven by data. Our existing brands have been developed in partnership with the likes of Uber Eats (UK and US), BuzzFeed and Unilever, so our partners can be confident that they'll work.
Step 2: Creation – utilising industry data and the experience of the PWB team, our brands our designed by the best. For example, the agency who came up with our chicken brand designed the current Domino's Pizza branding. This wows customers and ensures high levels of demand from those using takeaway delivery platforms – some of our restaurant partners have seen sales of our products outpace their own by nearly 20 times.

Step 3: Kitchen science – we use a scientific approach to kitchen operations; they're developed by strategists as well as chefs. For our partners, this means fewer ingredients, bought more cheaply, and less wastage. It means everything available through a single, central supplier. And it means simple operations on the ground – none of our recipes take more than eight minutes to prep!
Step 4: Launch – we're now selling to the public from over 50 different existing kitchens.
MEET OUR BRANDS
We have used data from delivery platforms to identify the menu items and brands that work best. PWB currently has a mix of owned and licensed brands spanning several categories, including chicken (Seoul Chikin, Flip the Bird, Wham Bam Wings, Katsu), burgers (Dukes, Proper Tasty), and a shared brand with Unilever (a vegan offer called Ding Dog, which uses Unilever's 'Vegetarian Butcher' product range).
Other brands are Chicken Sees A Salad and Say Queso. All are available to restaurants in the UK and the US, and are sold on delivery platforms including Deliveroo, Uber Eats and Just Eat. On average, they outperform restaurants' own brands by up to 823 per cent.
SCALABILITY
We work with partners across the hospitality spectrum, and you don't
need to have any previous experience of food delivery. Our brands can slot into any kitchen without prerequisites of equipment, cuisine type, or staff skills. We audit kitchens and the market to assign the right brands that work for your operations.
PWB has grown 20 per cent month-on- month over the past year. In the coming year we are set to hire for additional roles across our sales, operations, and brand development functions as we continue to disrupt the food-for-now and food delivery space.
We are expanding our operations into the US, Middle East and plan to set up a base in Australia and New Zealand as we grow at pace.
"The hospitality industry is ripe for disruption — Peckwater Brands combines great food with technology to revolutionise our partners' food delivery offer," says Leo Bradshaw, co-founder and CEO. "Our brands get us through the door, but what we develop are strong relationships with business owners — our technology sits at the heart of their businesses, and from there we can service all their future needs, from waste management to working capital. The revenue that we deliver for our partners is transformational for their businesses. Our partners are earning enough to open new sites and expand their operations."
"Our aim is to be bigger than Domino's, but if we've done our jobs right, you'll never have heard of us," says Sam Martin, co-founder and COO. "We don't believe that dark kitchens are the future of the food industry. The virtual brand model is superior in all the ways that matter: lower investment for partners, better for local high-streets and communities, and easier to scale.
"Dark kitchens give food delivery a bad name — we're hoping that through our virtual brands we can restore consumers' confidence in food delivery. When you're running a virtual brand, you have to
put twice as much effort into creating a high-quality, respectable product — the real test is whether consumers trust our brands and re-order from them. You can't make this model work if you're endlessly rebranding to hide a bad product.".
SUCCESS STORIES:
"When I was approached by PWB, they estimated an average of 100 orders a week. 10 months in and we're receiving over 300, increasing my sales by £7,000 week-on-week. This is revenue that I'll be using to refurb my restaurant. For the first time in five years I was able to give myself and my entire team 'Mother's Day' due to the additional revenue PWB has brought in!"
Atanaska, Mexican restaurant owner
"I took on an Indian restaurant during the pandemic in May 2020. I'd never run a kitchen and had no idea what
I was doing. The PWB team helped me through all of this. The brand operations manager even helped me rejig my kitchen layout for best practise.
Partnering with PWB was the best decision I've ever made. I wouldn't have gotten this far without them."
Suresh, Indian restaurant owner
THE RESULTS
By partnering with us, businesses are earning an additional £5,000 to £16,000 per month in take-home profit. That is based on data from dozens of restaurants that we have worked with since launching in our first venue more than 18 months ago.
• Earn an extra £15,000 to £40,000 gross revenue per month
• Increase delivery orders by an average of +823 per cent
• Reduce your wastage by an average of –4 per cent
• Increase your gross margin by an average of +9 per cent
• Reduce your ingredients costs by an average of –11 per cent
• Take home an extra £1,250 to 4,000 per week in cash profit
https://vimeo.com/569852633