03 Mar 2022
Radfield Home Care franchising launches fresh branding and new website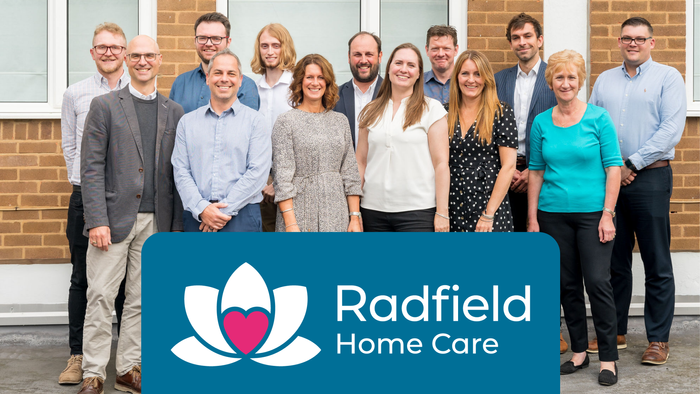 Radfield Home care are proud to launch their new look, websites and vision for the future of the home care sector.
We are excited to finally be able to share our refreshed branding and upgraded website with our franchise partners and prospective business associates. The new website launch brings an enhanced experience to ease navigation and help illustrate the benefits of franchising with Radfield Home Care.
Our new branding and colours refresh our visual identity while respecting our historical insignia of a lotus. The lotus flower is an apt metaphor for our approach to home care. The lotus grows in the darkness and emerges into the light as a beautiful flower. To us this represents coming through adversity into a better place and this is how our care service can help clients and families to improve their quality of life.
A promise to Be There for you and the community
Our refreshed identity also crystalises the messaging behind our mission to Be There. Be There for our clients. Be There for our Care Professionals. Be There for our franchise partners. Be There for our local communities.
As a home care provider, isolation is our enemy. Isolation leads to loneliness and depression that stops people from leading fulfilling lives. That is why we are here to help the nation age well by remaining connected to the things that matter the most to them.
Running a home care business is not simply about ticking boxes, it is about building relationships. Starting with those we build with franchisees so that we can understand how to support them starting a business and developing it for long term success. From there our franchise partners develop relationships with their care teams and their local communities so that they can provide people in those communities with exceptional care.
Dr Hannah MacKechnie, Director and Co-founder of Radfield Home Care said:
"Care has this wonderful power to bring people together, at its purest it is the antithesis of loneliness and isolation. It empowers people to retain their sense of identity and with it their connections to family members and those around them. Our Be There promise represents our commitment to support our franchise partners as they help people in their communities age well by nurturing these vital connections."
Click here for more on our be there promise.
An exceptional home care website
Along with our home care rebrand, we have also launched our new website that offers easier navigation, enhanced accessibility and an improved user experience.
To help create our new website and brand, we enlisted the help of local media specialist, Reech. Their web design expertise has been crucial in the creation of a website that shows the available franchising options to those considering running their own home care business.
Speaking about the new website design, Alex Green, Director and Co-founder of Radfield Home Care, and brother to Hannah, added:
"The launch of our Be There promise is being marked with the simultaneous release of our new website and new look. We loved our old logo but it didn't set us apart or illustrate our holistic approach to home care and franchise support.
"We took a step back and thought about what it meant to deliver care and at its core, it is all about relationships. Not just between clients and Care Professionals but with our franchise partners and the wider community too.
"To convey our mission to help the nation age well, we also needed a new focused brand and website. To create this we approached Reech, a local design company. Their team have done an astounding job and we are truly grateful for their hard work and support as we crafted our new aesthetic."
The website features new bespoke journeys, advice and information for anyone looking to start their very own home care business, or who simply wants to discover the advantages of franchising.