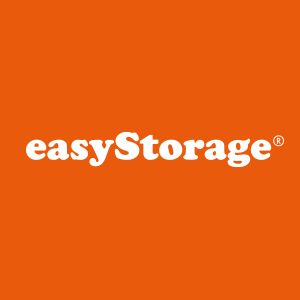 easyStorage
Stand: 320
| Property
| Transport
| Master Franchises
| Multi-Unit Franchises
| Single-Unit Franchise

easyStorage launched in 2017, bringing a new tech-driven approach to storage. It's part of the 'easy' brand, made famous by Sir Stelios with easyJet. The distinct orange logo and branding are trusted for fantastic value and service which gives easyStorage franchisees an advantage from day one.
High-growth storage opportunities
Cushman and Wakefield estimates the global storage market is growing by £2 billion annually. In Europe, self-storage uptake (per capita) is less than one tenth of the USA's, and so it offers substantial market opportunity. easyStorage has a mission to be the 'go-to' brand for storage.
Their easyPod franchise is winner of the BFA's Emerging Franchisor Award 2022. In just four years from launch, the franchise network has grown to cover 80% of the UK. easyPods are mobile storage units that hold furniture and other items securely. They are carried on specially-built vans to the customer, the crew loads items and returns to the local storage facility. In contrast, traditional self-storage requires customers do the lifting, van hire and pay for fuel. Rave reviews on Trustpilot say it all. Inside the storage facility, modular easyPod stacking maximises space efficiency which brings down prices for customers. Self-storage on the other hand opts for expensive locations by the side of major roads. 40% of their building's capacity is lost to access corridors and lifts. easyPod can be as little as half the price of self-storage. As the number of easyPods in storage builds, so does attractive recurring revenue. easyPod is now extending into Europe with master franchise opportunities available.
The new easyContainer franchise launched recently in 2023. It provides gated container storage with 24hr, drive-up access. easyContainers are strong which makes them ideal for the trades to keep tools, plant and materials, and for e-commerce companies to hold and sort stock. Their large capacity makes them suitable for household content, garden furniture, sports equipment and even boats or cars. easyContainer is a light-touch, highly-profitable franchise that generates attractive recurring revenue. Franchise opportunities are available in the UK. Investment from £40k.
easyStorage franchisees receive a full package of support. Technology includes VAULT, the bespoke online platform for managing bookings, calendar and recurring payments. MAVIS is the mobile app used to manage collections. State-of-the-art dashboards map KPIs in real time, another industry first.

The central marketing team manages the brand's digital, SEO and social media. Sales enquiries are taken online or by the central sales team leaving the franchisee to focus on building their business.
Discover more at stand 270 and at easyStorage.com/franchise
Address
Unit 22-23
Uxbridge Trade Park
Cowley Mill Road
Uxbridge
Middlesex
UB8 2DB
United Kingdom